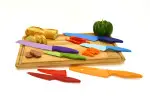 5 knives you should add to your collection
From slicing steak to dicing an apple, every kitchen should be equipped with a good set of knives. Whether you already own a set or plan to purchase a few to add to your collection, you'll want to know which knives are essential in your kitchen. Sharpen your skills when it comes to knives by taking a look at these must-haves.
The secret to any great knife is its sharpness. Get your knives sharpened about once a year for ease of use and safety. Many at-home sharpeners will give good results, however, you may want to have them professionally sharpened. Washing your knives by hand is highly recommended. The dishwasher isn't great for cleaning your knives because the aggressive nature of most dishwashing detergents will cause spotting on the blades and damage to the handles. After you clean your knives by hand, they should be stored individually in a sheath or in a knife block.