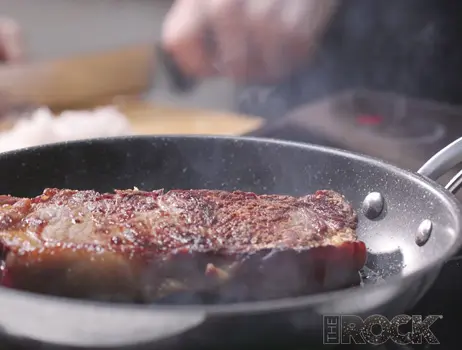 Cooking like a Chef - A quick reference guide to cooking methods
Browning is the process of partially cooking the surface of meat to help remove excessive fat and to give the meat a brown color crust and flavor through various browning reactions.
Steaming is a method of cooking using steam. Steaming is considered a healthy cooking technique and capable of cooking almost all kinds of food. Steaming works by boiling water continuously, causing it to vaporize into steam; the steam then carries heat to the nearby food, thus cooking the food. The food is kept separate from the boiling water but has direct contact with the steam, resulting in a moist texture to the food. Steaming results in a more nutritious food than boiling because fewer nutrients are leached away into the water, which is usually discarded.
Baking is a food cooking method that uses prolonged dry heat typically in an oven. The process is the following: heat is gradually transferred from the surface of cakes, cookies, and breads to their center.
Sautéing and stir-frying involve cooking foods in a thin layer of fat on a hot surface, such as a frying pan, griddle, wok, or sauté pan. Stir frying involves frying quickly at very high temperatures, requiring that the food be stirred continuously to prevent it from adhering to the cooking surface and burning.
Frying is the cooking of food in oil or another fat. Chemically, oils and fats are the same, differing only in melting point, and the distinction is only made when needed. Foods can be fried in a variety of fats, including lard, vegetable oil, rapeseed oil and olive oil. A variety of foods may be fried, including the potato chip, bread, eggs and foods made from eggs.
Simmering is a food preparation technique in which foods are cooked in hot liquids kept just below the boiling point of water. To keep a pot simmering, one brings it to a boil and then reduces the heat to a point where the formation of bubbles has almost ceased.
Stewing: A stew is a combination of solid food ingredients that have been cooked in liquid and served in the resultant gravy. Ingredients in a stew can include any combination of vegetables (such as carrots, potatoes, beans, peppers and tomatoes, etc), meat, especially tougher meats suitable for slow-cooking, such as beef. Poultry, sausages, and seafood are also used. While water can be used as the stew-cooking liquid, wine, stock, and beer are also common. Seasoning and flavorings may also be added. Stews are typically cooked at a relatively low temperature (simmered, not boiled), allowing flavors to mingle. Stewing is suitable for the least tender cuts of meat that become tender and juicy with the slow moist heat method. This makes it popular in low-cost cooking. Cuts having a certain amount of marbling and gelatinous connective tissue give moist, juicy stews, while lean meat may easily become dry.
Deglazing is a cooking technique for removing and dissolving browned food residue from a pan to make a sauce, known as a pan sauce, that is often made to accompany sautéed meats. The browned residue is due to either the Maillard reaction or caramelization. When a piece of meat is roasted, pan fried or prepared in a pan with another form of dry heat, a deposit of browned sugars, carbohydrates, and/or proteins forms on the bottom of the pan, along with any rendered fat.
Searing (or pan searing) is a technique used in grilling, baking, braising, roasting, sautéing, etc., in which the surface of the food is cooked at high temperature so a caramelized crust forms. Similar techniques, browning and blackening, are typically used to sear all sides of a particular piece of meat, fish, poultry, etc. before finishing it in the oven. To obtain the desired brown or black crust, the meat surface must exceed 150 °C (300 °F), so searing requires the meat surface be free of water, which boils at around 100 °C (212 °F).