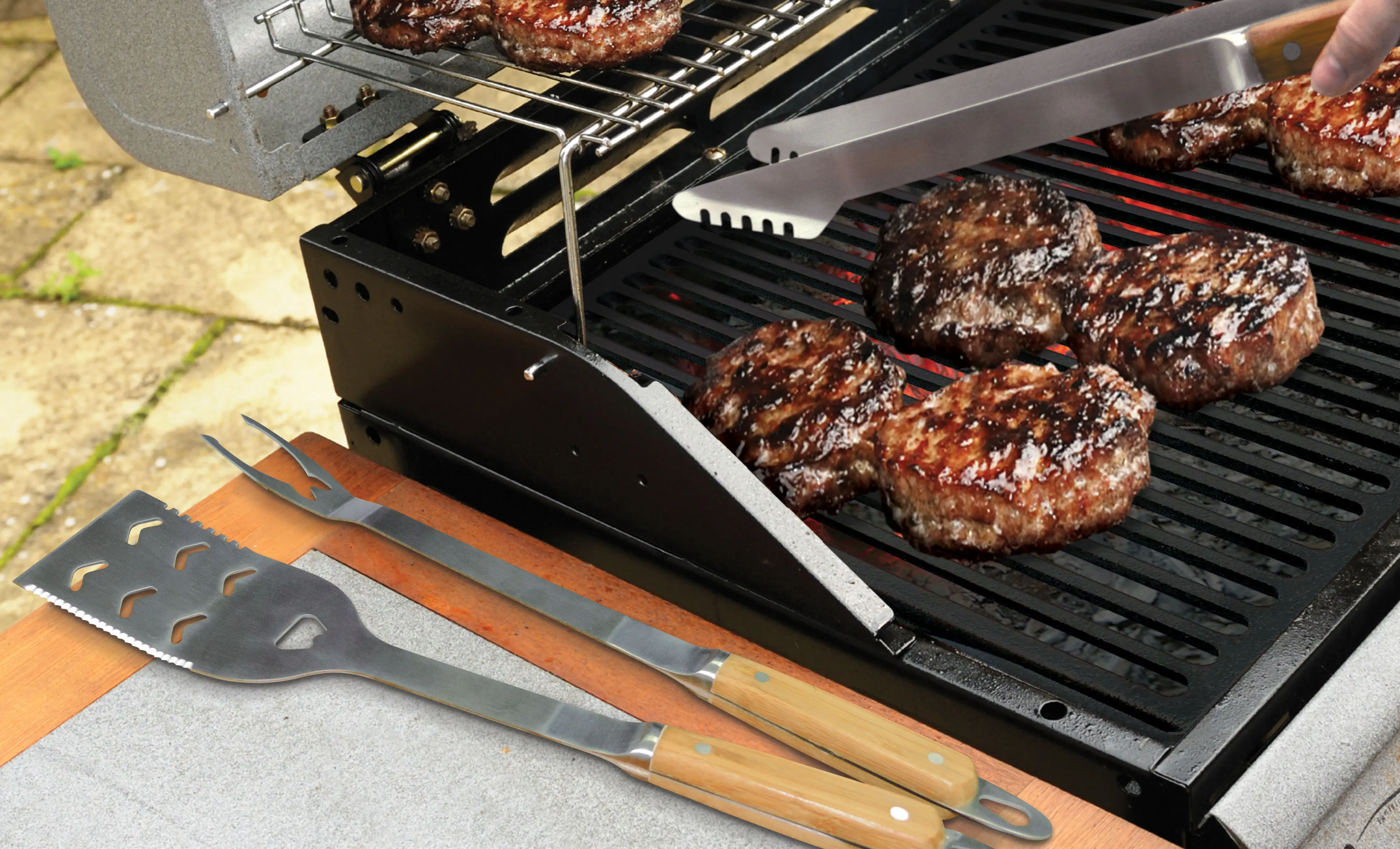 Father's Day BBQ Bonanza
June BBQ Season Starts with a Father's Day BBQ Bonanza
Most of us love barbecuing so much that some of us don't even wait for spring; we barbecue even in the chill of February! But there's something about school being out, vacation season upon us, and the consistent balmy temperatures of June (compared to the iffy weather of May) to launch the official summer grilling season. And what better occasion that a Father's Day BBQ? Mother's Day is all about the restaurant special or the brunch thing, but dads? It's grill time! It's informal, and appropriate 'manly' but better than that, it's also crowd-pleasing and makes the most of the weather.  Food made and/or eaten outdoors, fresh off the grill is also incomparably delicious!
Starfrit's BBQ Sous Chefs!
Starfrit's repertoire of BBQ 'helpers' is a line-up of products that turn a BBQ amateur into a pro.  Nothing beats the
BBQ 6-in-1 Tool
for picking up delicate fish or hamburgers along with everything else. It's a joy to have 'intact' food that doesn't suffer being poked or fall apart as can happen with you use forks or regular tongs. The Starfrit
BBQ Tool
allows you to 'lift' underneath the food item and gently hold it in place with a clam-like spoon/fork design. Food is transferred securely and presents beautifully. It's the best of tongs and a metal spatula with extra-long, easy-grip handles. It's a transformational product – trust our test kitchen experience!
The
Hamburger Press
is also a boon, allowing you to make, stack and freeze ready-to-go burgers that you can pre-season as you wish. I make beef, as well as turkey and vegetarian burgers using this handy device. I love homemade taste especially when combined with something that is designed to that make short work of forming burgers (and gives them that professional look besides). Herbs also perk up the flavor of barbecue foods and the handy
Starfrit Herb Scissors
make short work of mint, parsley and even shred up kale. Starfrit Kitchens is pleased to present a trio of sumptuous barbecue recipes to enjoy with your Starfrit 'batterie de BBQ', aka your Starfrit sous chefs. Enjoy Father's Day or whatever occasion you're celebrating!
Recipe Selection
By Marcy Goldman, BetterBaking.com