How to choose the right cookware material?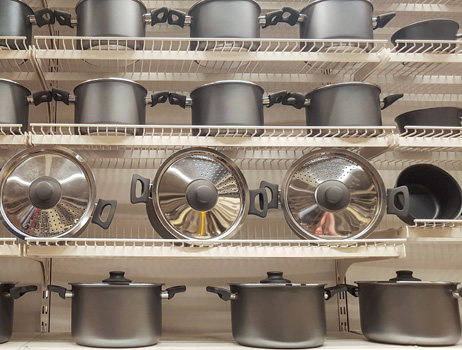 With the amount of cookware available these days, it's sometimes difficult to choose which material is best for what we cook. We wil try to help by explaining each type of metal and its uses. Here are the materials that are covered in this blog:
Stainless steel
Tri-ply Stainless steel
Aluminum
Hard anodized aluminum
Forged aluminum
Cast iron
Cast aluminum
Once you read up on each type of cookware, you can take the guess work out of choosing the right cookware for your needs. Happy cooking!
Stainless Steel
Stainless steel is a sophisticated material. It is a
very durable
material which is adapted to the high quality requirements of the modern world. Delicate foods need less stirring, vitamins and minerals are better preserved and heat is retained longer, saving you energy on all stovetops. Although this material by itself is not a great heat conductor, it is usually formed along with a copper or aluminum core. As these two metals have excellent heat conductivity, it enables the whole cookware to heat up more rapidly than just having stainless steel alone. Characteristics include:
Extremely durable
Won't corrode
Its non-porous surface is very resistant to wear
High quality stainless steel such as 18/10 stainless steel (18% chromium, 10% nickel) is superior because a high nickel content (10%)
increases its corrosion resistance
when using high temperatures and the high chromium content (18%) designates a high quality and purity of the alloy; it makes cookware strong enough to not deform.
Tri-ply Stainless Steel
To improve the not-so-great conductivity of stainless steel, copper and/or aluminum is generally used to sandwich between two outer layers stainless steel. The
multi-layer material retains heat longer
and saves energy on all stovetops. Because the aluminum core runs from the base to rim, the entire contents of the pot or pan stays at the same temperature, ensuring even cooking. The equal distribution of heat eliminates hot spots, allowing you to cook the most delicate dishes. The higher the number of ply, the higher the price, the heavier the weight, and to a certain degree the better the performance. Its applications include
browning meats, whisking delicate sauces, searing, glazing, sautéing and even frying
.
Aluminum
Aluminum is an
excellent conductor of heat
making it one of the more popular materials used in the construction of cookware. Because of this quality, heat spreads quickly and evenly across the bottom, up the sides and across the cover to completely surround the food being cooked. Aluminum is
lightweight metal
and easy to handle. The gauge or thickness of aluminum cookware is one feature that determines its quality: the heavier the gauge (thickness), the more durable and generally the more costly the cookware. Aluminum is used in the creations of many different types of cookware on the market today, ranging from cast, to forged, pressed and hard anodized. The main reason for this popular choice in material is aluminum has superb heat conductivity and it is less expensive compared to other materials such as copper or stainless steel. Aluminum is remarkable for the metal's low density and for its
ability to resist corrosion
. It is a relatively soft, durable, lightweight, ductile and malleable metal with appearance ranging from silvery to dull gray, depending on the surface roughness. Corrosion resistance can be excellent due to a thin surface layer of aluminum oxide that forms when the metal is exposed to air, effectively preventing further oxidation.
Hard Anodized Aluminum
Hard-anodizing is the process of
hardening aluminum
by submerging it in a hardening solution. This type of cookware has a significantly longer lifespan than any other type of cookware. Hard-anodized surfaces
won't peel or chip
, and resist heat up to 3722 ºF / 2050 ºC – the most durable cookware currently available. Their properties allows resistant to corrosion, abrasion, and they are twice as hard as stainless steel and they are as light as aluminum. Cookware pieces in hard anodized are great at searing at
high temperatures
, browning of meats, sautéing, glazing, steaming and simmering. Characteristics include:
Increased scratch resistance compared to standard aluminum
Increased durability compared to standard aluminum
Stick resistant
Heat spreads quickly and evenly across the bottom, up the sides and across the cover to surround the food being cooked
Twice as hard as stainless steel
Forged Aluminum
Forged cookware implies a unique manufacturing process involving the shaping of the aluminum using localized compressible forces. This way, the aluminum is specifically distributed to favor the base of the vessel and therefore accentuate the overall performance of the product. Forged aluminum cookware represents a great alternative to more expensive cast aluminum products. Cookware made of forged aluminum are
great for glazing, steaming and simmering
. Characteristics include:
Excellent heat conductor
Thick base to maximize heat distribution and retention
Heat spreads quickly and evenly across the bottom, up the sides and across the cover to surround the food being cooked
Resists many types of corrosion
Cast Iron
The most important properties of cast iron are its
heat retention and even heat distribution
. The equal distribution of heat eliminates hot spots, allowing you to cook the most delicate dishes, while preserving the natural flavors of the food. Considered to be a precision tool to many professional chefs, this material is a common choice for
browning, stewing, baking, frying foods and also great for conducting long-cooking stews
. It is also very durable. When properly cared for, it will last for generations. Cast iron cookware is produced in a sand-cast process. Quality cast iron requires sand molds made under high pressure so that their shapes can be precisely controlled. In addition to careful attention to the metal used in cast iron, the manufacturer must also control the components of the sand, which include clay and water. Patterns are pressed into the sand and the molten iron is poured into the resulting cavity. As the iron cools to its solid state and becomes a cooking utensil, the sand mold is broken apart. The sand is cleaned off the cookware and it is then smoothed and packed for shipment. Characteristics include:
Very efficient at distributing and retaining heat
Incredibly durable, if properly cared for
Best uses include browning, frying, searing, stewing, simmering and baking.
Cast Aluminum
Casting is a sophisticated manufacturing process by which molten aluminum is poured into specially designed molds. These molds allows for strategic variation of the thickness to all parts of the cooking vessel for maximum cooking efficiency. Cookware made of this material is great at
glazing, steaming ans simmering
. Its characteristics include:
Excellent heat conductor
Thick base to maximize heat distribution and retention while protecting the non-stick coating
Tapered walls for faster heat up and energy saving
Heat spreads quickly and evenly across the bottom, up the sides and across the cover to surround the food being cooked
Thick rim to avoid warping
Resist many types of corrosion