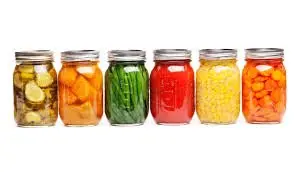 Summer Preserve Us!
For most folks, the beginning of summer means vacation time is near. But for foodies, it also marks the beginning of weeks after week of preserving and pickling the summer bounty. Nothing beats your own preserves and pickles!  First there's the fun of gathering the fruits and vegetables at the farmer's market or wherever you shop for fresh produce or a family oriented U-Pick farm. Naturally you can use your own garden harvest or opt for organic fruit and vegetable. Then there's also the satisfaction of seasoning (salt and sugaring!) recipes to your own taste, knowing just what's in each jar as well as the love and energy that goes into everything you make. Gourmet style pickles and preserves cost a fraction of what they cost in stores and contain only the very best ingredients. Plus there's no limit on what can be made into a preserve or jam. For instance, I personally prefer for all sorts of combinations over straight blueberry or regular strawberry. Homemade means things are also additive and (added) pectin-free, ensuring you have blue-ribbon results with a vibrant purity of taste. In commercial jam making, in order to use less fruit and/or have a very stable shelf-life product, added pectin (thickener) is used. When you make the jams, jellies and preserves at home, the taste of fresh fruit shines through since you don't have to skimp. Slow simmering ensures properly thickened preserves. Pickling is another summer kitchen activity that is easy to do and again, the plethora of country-fresh recipes knows no bounds. I like Quick Pickled Cucumbers as well as Pub Style Onions, since the latter are a fortune in gourmet shops, if and when you find them. This month, I've provided a quartet of great pickling and preserve recipes as well as a bonus tip sheet.
Starfrit handles the tools and equipment honours. Preserving and pickling takes some finesse and experience but nothing beats having the proper tools to help you in each step of the process. The exclusive
Starfrit funnel
, (which sits snugly on the large and allows jars to be filled without mess), the
magnetic wand
and perfectly designed
jar lifter
is nothing short of transformational when it comes from doing the job right! So jam on – use the right tools and you won't find yourself in a pickle!
By Marcy Goldman, BetterBaking.com