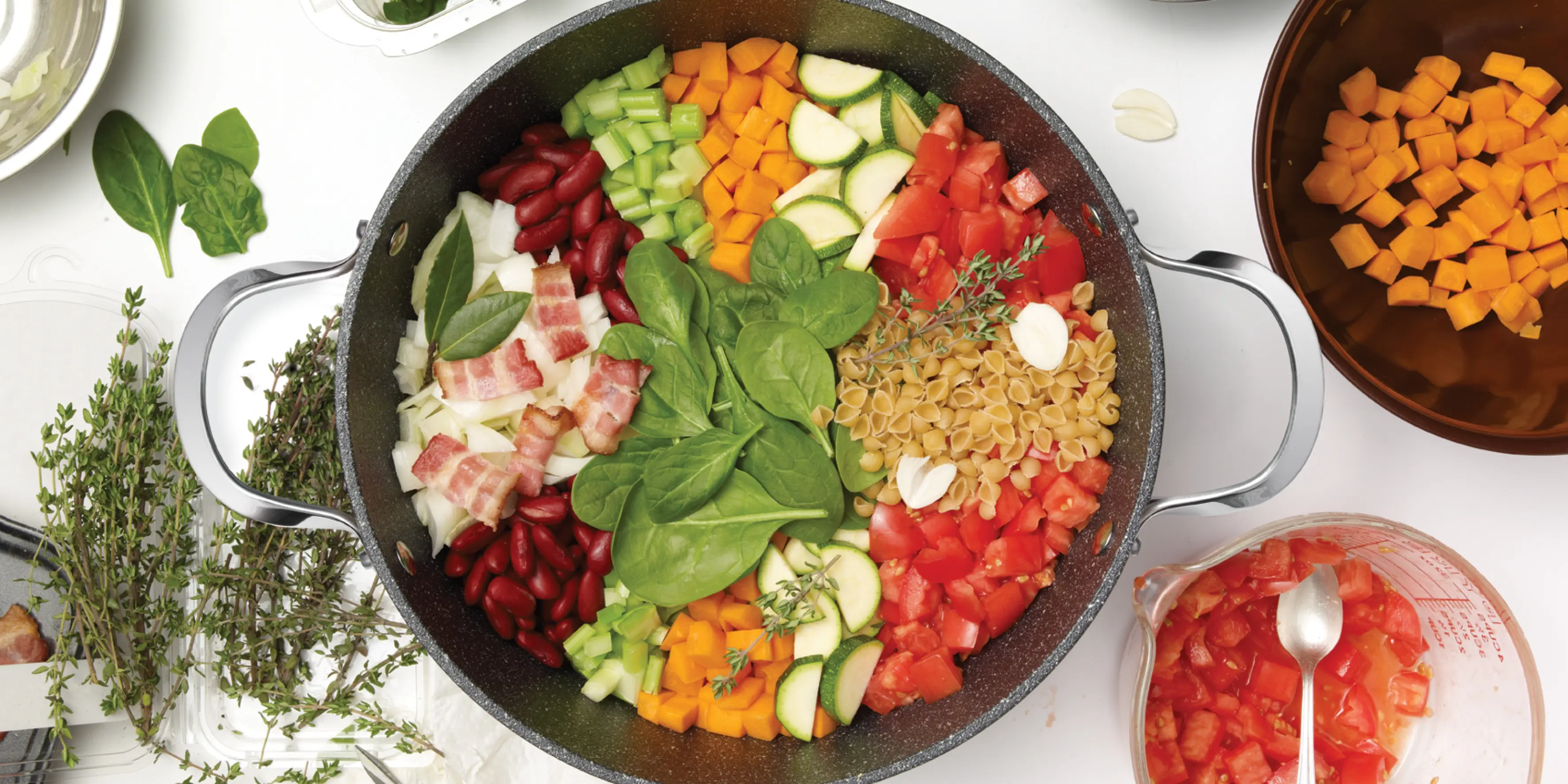 Why It Matters: One-Pot Meals
With the creation of The Rock One-Pot, you can impress guests, as well as yourself, with all the delicious meals you can prepare with this pot. This pot is a time saver and a masterpiece maker. With sizes available to fit any recipe, The Rock One-Pot is the only pot you need to pull together a complete meal. The Rock One-Pot lineup includes the 12" Dutch oven with lid, the 7.2-quart stock pot, the 5-quart dutch oven, the 9" x 13" rectangular dish with lid or the 12.5" skillet with lid.
Anyone familiar with the Dutch oven is likely already enamored with the concept of one-pot cooking, but the 12" Dutch oven in this line has the added benefit of a glass top for viewing and a patented surface technology. The patented surface makes The Rock One-Pot 50 percent harder than other Dutch ovens, and the dimpled surface creates air pockets under the food to prevent it from sticking. Use the 5-quart size to create larger quantities that can be used for company or for leftovers.
The one-pot concept is not only a time-saver when it comes to cooking, but also a time-saver with cleanup. The Rock One-Pot has specially designed high and straight walls that make stirring a breeze and helps reduce the normal mess related to stirring your food. Using The Rock One-Pot gives you more time to spend relaxing with friends delighting over a pot of delicious food, and maybe even a nice bottle of wine!
Make breakfast casseroles, soups, main dishes and even desserts with one of our specially-designed One Pot cookware pieces! Prepare an incredible beef curry in one pot and serve it in less than 20 minutes. Add one-inch pieces of stew beef, tomatoes, garlic, cinnamon, fresh ginger, curry powder, a bay leaf, onions, red pepper and white rice and simmer until you cannot take it any longer. Grab some pasta of your choice, a cup of water, tomatoes and fresh herbs and cook until the pasta is ready. Add fresh mozzarella during the last few minutes of cooking, toss together with a drizzle of olive oil and sprinkle a chiffonade of basil on top for a Caprese pasta. As we all know, Mexican food is always a winner at the table. Create a Mexican skillet supper in your Rock One-Pot with hamburger, chorizo, taco seasonings, fresh or canned tomatoes and a chopped onion. Top with fresh queso or cheddar and serve with salsa and fresh sliced avocado. Add some fresh sliced jalapenos to the mix and spice it up. These meals are perfect for dinner for one or for many. Check out The Rock One-Pot at Starfrit. This affordable cookware line will change the way you cook and save you time. Need I say more?