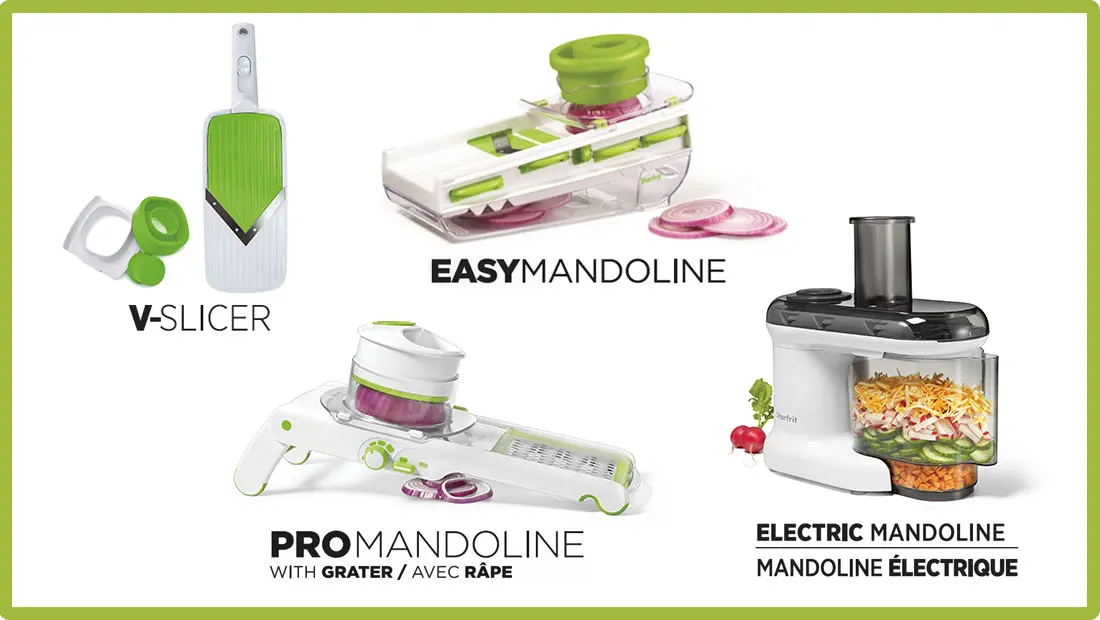 Mandolines : Good - Better - Best
Why do so many mandolins exist? Whether you are starting out or you need a performing product to slice / julienne, we will demistify our collection from good tools, to better, to best kitchen accessories to cut your fruits and vegetables.
1. The basic cutting tool - V-Slicer
You don't cut fruits and vegetables into thin slices very regularly but still want to use something that will make your slices even, you can spend less and get a V-Slicer. With the pusher, slice the food against the railing to slice against the "V" shaped blade.
2. The good mandolin - The EASY Mandoline
With the Easy Mandoline, you can slice, julienne, crinkle, grate or shred. It's quite versatile! All blades are stored in the unit - choose the one you need by inserting it from the side. The pusher stays on track with its safety guide, it can hold smaller food (carrots, zucchini) inside the pusher or larger food under the pusher. Slices can fall inside the integrated recipient or directly over a bowl. The mandoline to use when versatiilty is a "must" but slice thickness is standard (one only).
3. The best mandolin - The PRO Mandoline
When thickness of cuts is important, the PRO Mandoline is the best choice. On the side of the unit, you can choose between 4 different thicknesses. Blades are not removable. It makes julienne cuts, straight cuts and even grates. Use the pusher for small food (place inside the pusher) or larger ones (place over the food). Rail guards help you stay on track and is an added safety feature.
4. The safe mandoline - The Pump'n'Slice
When safety is an issue and you don't want to be in contact with the blade, use the Pump'n'Slice. To cut, simply place food into the chute, press on the pusher and push down the pump. You can adjust the blades to desired thickness: from 0.5mm to 0.8mm. It will slice, make juliennes and dice. All parts fold / retract for easy storage.
5. The electric version - The Electric Mandoline
Whether you need to slice, grate, julienne or even cut into cubes, the electric mandoline is quite versatile. It's a great tool when you want to avoid touching the blades and need regular cuts. It will only slice what can slide into the chute. It has 3 thickness preset levels: extra thick, thick and thin. A bit more expensive but worth every penny when you need regular cuts made quickly and easily. The machine works for you!
Related products
Sale

Special Price

$22.00

Regular Price

$36.99