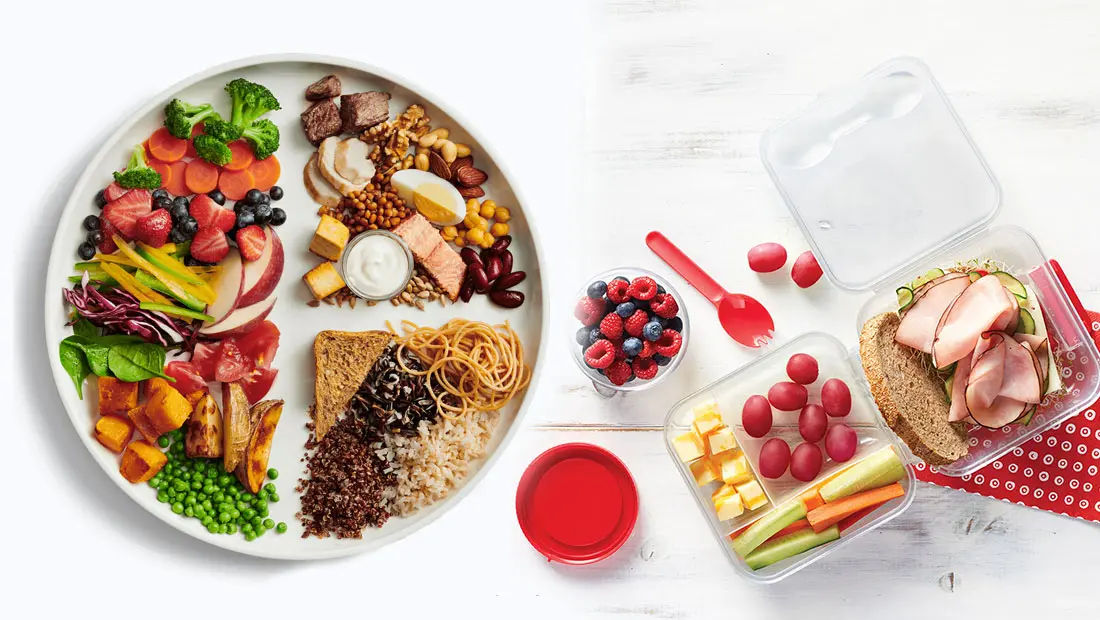 New Canadian Food Guide - Creating Healthy Lunches
For kids to grow healthy, choosing the right lunchbox foods is essential. Especially at school, your child needs to concentrate and learn new concepts which is why it's important to choose foods that have the necessary vitamins and minerals in their lunch.
Which are the right foods to choose from with the new Canadian Food Guide?
More fruits and vegetables
According to Canada's new Food Guide, your food intake should constitute primarily of fruits and vegetables. The protein foods as well as the whole grain foods should also be present but in lesser quantities. Fruits and vegetables should account for half of your meal and the protein / whole grain foods should constitute the remainder of your meal (half and half).
This should be reflected in your kids lunch boxes. Prioritize fruits and vegetables as snacks or as side dishes - avoid all sweet or transformed food.
Water : your beverage of choice
Small juice boxes have the perfect size for kid lunches... but... they are very high in sugar and are NOT part of healthy food choices. It's better to prioritize water in their lunch boxes. By giving kids a reusable bottle with water, they can use it all day and have a glass of water with not only lunch but with snacks the rest of the day.
Making healthy choices at home
To help kids learn about healthy food choices, there is nothing better than cooking with them at home. By cooking healthy meals inspired by Canada's Food Guide, your kids will enjoy what they are eating and they will learn to make good choices in the future. Also, leftovers can be used in lunch boxes! You will only need to complete the lunch with healthy snacks.
Planning is key
Sometimes you won't be inspired for lunches... but you can avoid this. How? Plan all lunches at the beginning of the week, purchase what you will need during grocery shopping and you will have all the food you need ahead of time. Preparing the lunch box will be much easier! It can also help you save time and money.
With all the tips given here and with Canada's Food Guide, you have everything you need to create healthy kids lunches that will be sure to please both kids and parents!