Back
Almond Cream and Blueberry Shortbread Pie
Description
Shortbread cookie base topped with almond cream garnished with blueberries and baked in the oven. The whole thing sprinkled with powdered sugar.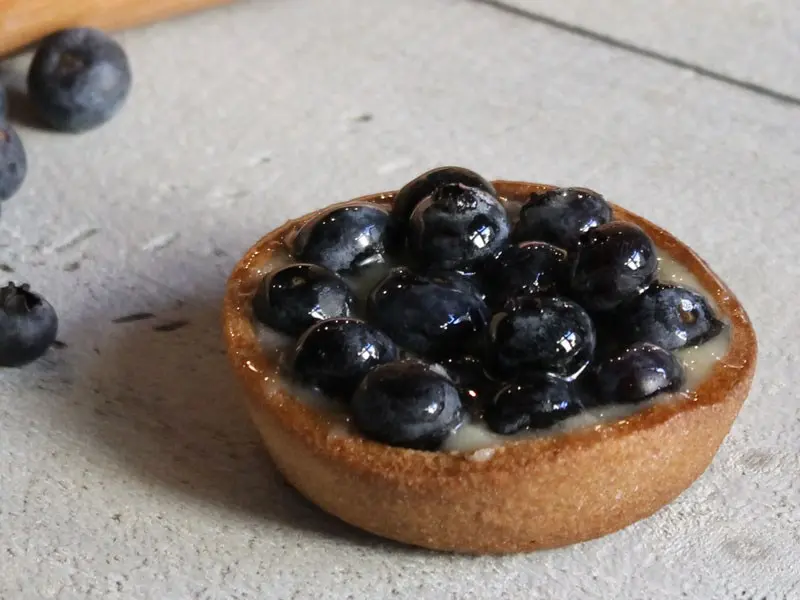 Shortbread pie dough
¾

cup Butter

2

tbsp Sugar

3

tbsp Icing sugar

3

tbsp Almond powder

1

cup Wheat flour

½

Egg
Almond cream
½

cup Butter

¾

cup Sugar

3

Eggs

¾

cup Almond powder

2

tsp Amber rum
1

½

cups Frozen blueberries
1

½

tbsp Wheat flour
| | | |
| --- | --- | --- |
| 3/4 | cup(s) | Butter |
| 2 | tbsp | Sugar |
| 3 | tbsp | Icing sugar |
| 3 | tbsp | Almond powder |
| 1 | cup(s) | Wheat flour |
| 1/2 | unit(s) | Egg |
Shortbread dough
Make sure that the butter is room temperature and soft.
Place it in your stand mixer bowl.
Add the sugar and mix well.
Add the egg and continue to mix.
At the same time, pass the dry ingredients through a sieve. Make sure it is well combined.
Add the dry ingredients to the stand mixer and mix until well combined.
Wrap the dough in plastic wrap and let rest in the fridge for at least 4 hours.
Once rested, knead the dough with your hands until it is soft enough to work easily.
Roll the dough out using the Starfrit Rolling pin.
Transfer the dough circles on the underside of a muffin mold, making sure they are well centered.
Transfer to the fridge until well cooled.
Almond cream
In the bowl of the mixer, place the softened butter and sugar together and mix until it looks like mashed potatoes.
Add the eggs one at a time making sure they are well incorporated before continuing.
Sift the dry ingredients and add to the mixture after the eggs.
Finish by adding the rum to the mixture.
Afterwards, fill the pies halfway to the top with this almond mixture and top with the blueberries.
Immediately place the pies in the oven for 20-25 minutes and wait for the pies to cool before removing them form the molds.
To serve
Place the pie in a round plate and sprinkle generously with some powdered sugar. Enjoy!