Back
Breakfast Casserole
Description
The Starfrit pressure cooker can be used to prepare a wide array of meals, even breakfast! Try this easy breakfast casserole prepared in minutes.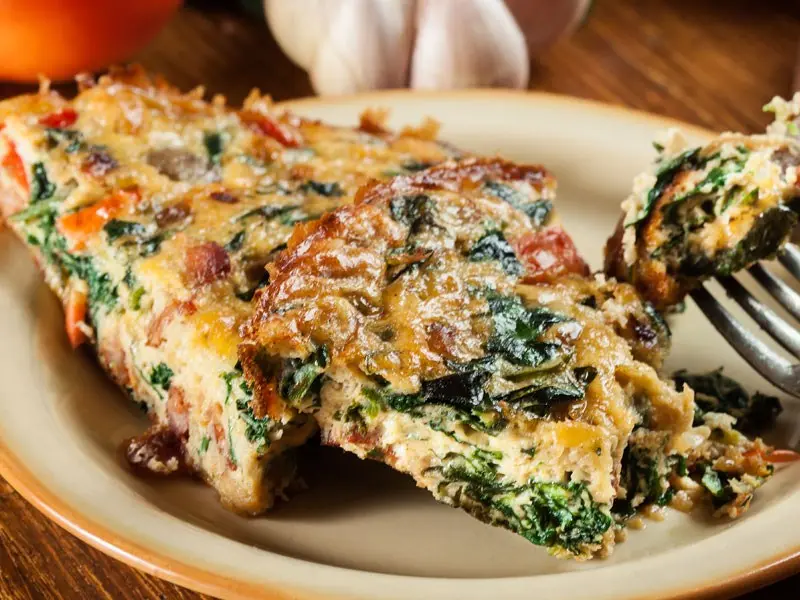 6

slices bacon, chopped

2

cups frozen hash browns

6

eggs

¼

cup (60 ml) skim milk
1

½

cups water

½

cup shredded cheddar and Monterey Jack cheese

1

teaspoon salt

½

teaspoon pepper

½

onion, diced

½

red bell pepper, diced

3

green onions, chopped
Optional add-ins: spinach, mushrooms
Chop up bacon into small pieces then sauté in pressure cooker using the Sauté function until crispy. Add in the bell pepper and onion and sauté until tender, about 3 minutes. Add in frozen hash browns and stir until slightly thawed, about two minutes.
With a non-stick cooking spray, coat a heat proof container that will fit into your Pressure Cooker, a round metal bowl, for example. Empty bacon and veggie mixture inside the heat proof container.
Whisk together eggs, milk, shredded cheese, and salt and pepper in a separate bowl and then add egg mixture to the bacon and veggies.
Pour the water into your cooking pot and set the steaming tray inside. Place heat proof bowl with egg mixture on top of the steaming tray.
Lock lid and press Whole Grain. Once the cooking time ends, manually release the pressure by turning the nozzle on top to the release position using oven mitts. Let pressure release for 5 to 10 mins.
Open the lid and remove the heat proof container. Loosen the edges then dump out the cooked egg mixture onto a large plate. Serve with green onions and extra shredded cheese!
Products used in this recipes