Back
Chicken, Arugula and Orange Pasta Salad
Description
We're sorry, an error has occurred while generating this content.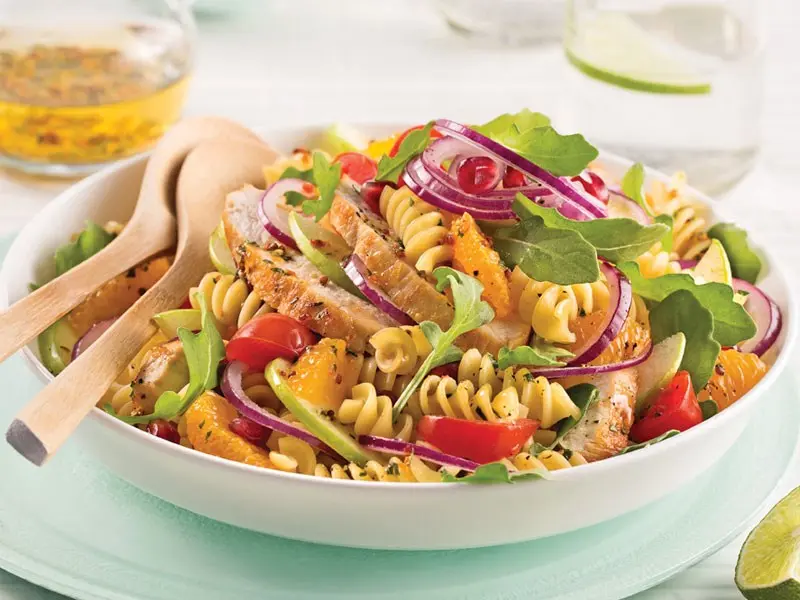 For the salad:
500

ml (2 cups) rotinis (or other pasta)

350

g (3/4 lb) chicken breasts (without skin)

15

ml (1 tablespoon) chicken seasoning

15

ml (1 tablespoon) olive oil

2

green apples

1

small red onion

2

oranges

10

cherry tomatoes, cut in halves

125

ml (1/2 cup) seeds of

pomegranate

500

ml (2 cups) arugula
For the dressing:
60

ml (¼ cup) olive oil

60

ml (¼ cup) mandarine juice

60

ml (¼ cup) chopped parsley

45

ml (3 tablespoons) minced basil

30

ml (2 tablespoons) sun dried tomato pesto

15

ml (1 tablespoon) mustard
Salt & pepper to taste
In a casserole, bring to a boil salted water and cook pasta until al dente. Rinse under cold water and drain.
While pasta is cooking, season chicken breasts.
In a large deep fry pan, heat oil to medium and cook chicken breats for 5 to 6 minutes on each side until fully cooked.
In a bowl, whisk all dressing ingredients together.
Cut apples and red onion in thin slices. Peel oranges and cut into small pieces. Slice cooked chicken breasts.
Add fruits, pasta, chicken, cherry tomatoes, onion, pomegrenade seeds and arugula in bowl and mix.
Source: © Pratico-Pratiques 2017
Products used in this recipes