Back
Chicken Panini with Roasted Peppers and Avocado
Description
Nothing makes paninis like the Rock Panini Grill by Starfrit. With its non-stick surface, high heat resistance and large size, it makes perfectly grilled paninis in minutes. This tool works great for any family meal as it can grill a wide variety of foods. To properly extract avocado flesh, make sure to use the Starfrit 5-in-1 Avocado tool to get the most out of this delicious fruit!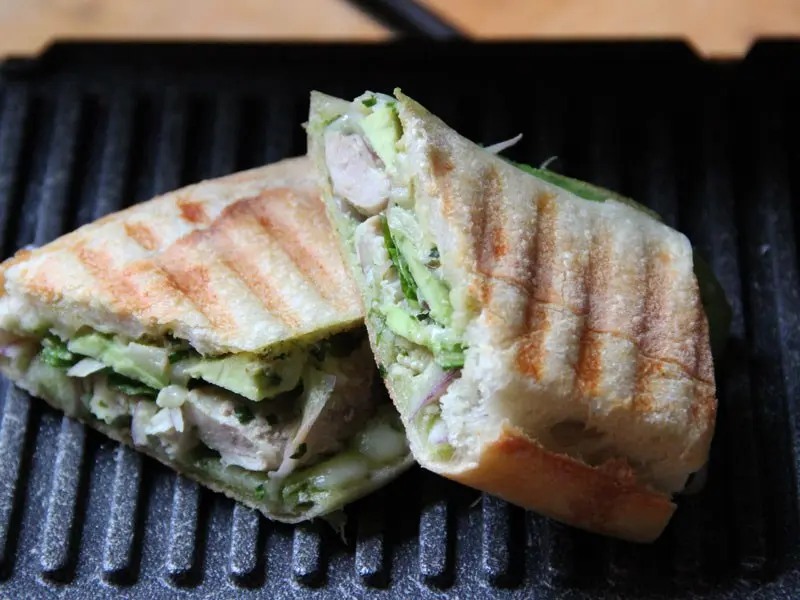 Chicken panini
8

units Boneless chicken thighs

4

oz Pesto

1/2

Red onion

4

Panini breads

2

cups Mozzarella cheese

2

Avocados

4

leaves Boston lettuce

4

tbsp Dijon mustard
Preheat your oven to 400°F
Setting up
Cut the pieces of chicken in two.
Grate the mozzarella and finely cut the red onion.
You can prep the avocado with the Starfrit Avocado Tool 5-in-1, and then you can cut the fruit in thin slices.
Wash the lettuce and cut the panini bread.
Chicken thighs
In a pan with heavy bottom, with a little bit of vegetable oil, at high heat, rapidly color all the chicken's surfaces and finish the cooking in the oven at 400°F for 10-12 minutes, on a cooking tray covered with a parchment paper.
Assembly
Inside the panini bread, put in the Dijon mustard, then the lettuce, the avocado, the red onions, the pesto and add the chicken.
Finish with the mozzarella and make sure to close the panini tightly.
Put it inside your The Rock Panini Grill by Starfrit, make sure the coloration is to your liking and voilà!
Products used in this recipes