Back
Coriander and Cumin Lamb Kofta with Saffron Rice
Description
Delicious saffron rice served with cumin and coriander lamb kofta. And if you want to give this recipe proper meaning you have get the proper instruments! All this easily done - and done well - with the 10-Piece Cookware set The Rock by Starfrit. The non-stick stewpot makes you easily feel as if you were a pro chef in the streets in the middle e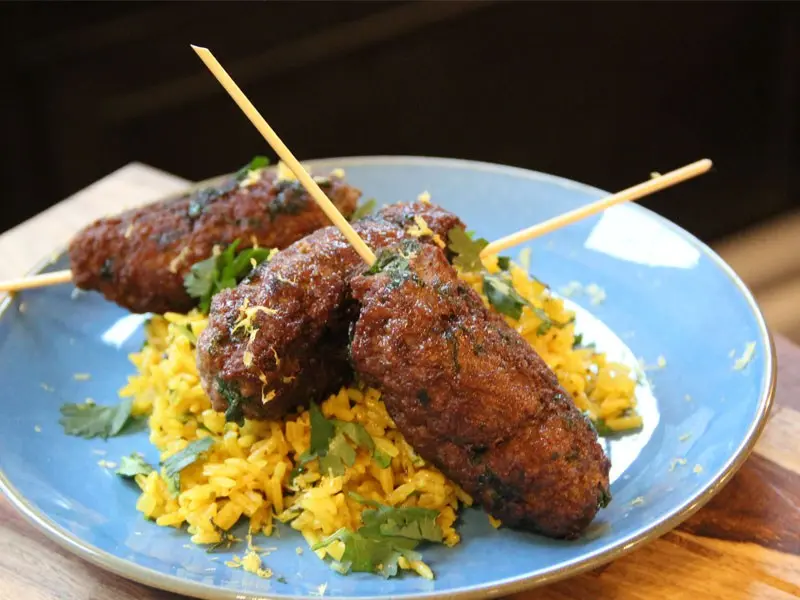 Lamb kofta
1/3

lb Ground lamb

2

cloves Garlic

5

sprigs Coriander

2

slices Soft bread

2

tbsp Milk

1

tsp Cumin powder

6

sprigs Parsley

1

Egg
Saffron rice
1/2

cup Basmati rice

1

White onion

2

Garlic cloves

1

tea spoon Fresh ginger

2

tea spoon Lemon zests

1

leaf Bay leaf

4

cups Chicken stock

1

pinch Saffron Pistil

1/4

cup Lemon juice

4

sprigs Fresh cilantro

6

leaves Curry
Preheat your Oven at 425°F
Setting up
Put the wood skewers in cold water during your preparations.
In a bowl, break the soft bread in small pieces and pour the milk on the top.
Pick and chop the parsley leaves but no too thin.
Chop the garlic finely.
Lamb Kofta
In a bowl, put the ground lamb, the egg, the coriander, the cumin, the garlic and the squeeze soft bread.
Mix it really well.
With your hands, form some 3/4 oz lamb sausages around the skewers.
Brush vegetable oil around, and season it.
In a hot pan with vegetable oil put the skewers on for 5 to 6 minutes by turning them often.
Put them on a baking tray and finish in the oven for 2 to 3 minutes.
Put on a serving plate and finish with the chop parsley.
Saffron rice
Rinse the rice under very cold water.
Heat up the chicken broth in a stewpot from the Starfrit The Rock 10-Piece cookware set, with the saffron and the curry and the bay leaves.
Bring everything to a boil then let simmer and infuse 5 mins.
In another pan, heat up and sear the mushrooms with the onions until translucent. Put in the ginger and garlic, lower down the heat from 8 to 5 and let the mixture cook for 10-15 secs.
Once ready, bring the heat back in the pan (8) and throw the rice in the onion mix and then all of the chicken broth.
Again, bring it to a boil and then lower down the heat to medium-low for 10 mins.
Turn the heat off, put the lid on and let rest for a good 15 mins.
Season with salt and pepper to taste and the lemon zest also.
Chef's tip
Cooking of the rice; almost like a pilaf actually, just not in an oven, but the very same basics.
Once the broth is ready, put in the onions and the rice.
Bring to a boil, cover with aluminum foil, then cook it in an oven at 350F for roughly the same time, 15 mins.
It is very important to let it rest with the lid on afterwards.
Products used in this recipes