Back
Deconstructed Pork Loin Roast
Description
Flavor packed classic and comfort recipe! An all time favorite by our chefs, at l'Atelier. Give yourself all the chances to make this recipe a tasteful adventure by using The Rock Roaster with Rack and Meat Thermometer by Starfrit, to get the cooking right!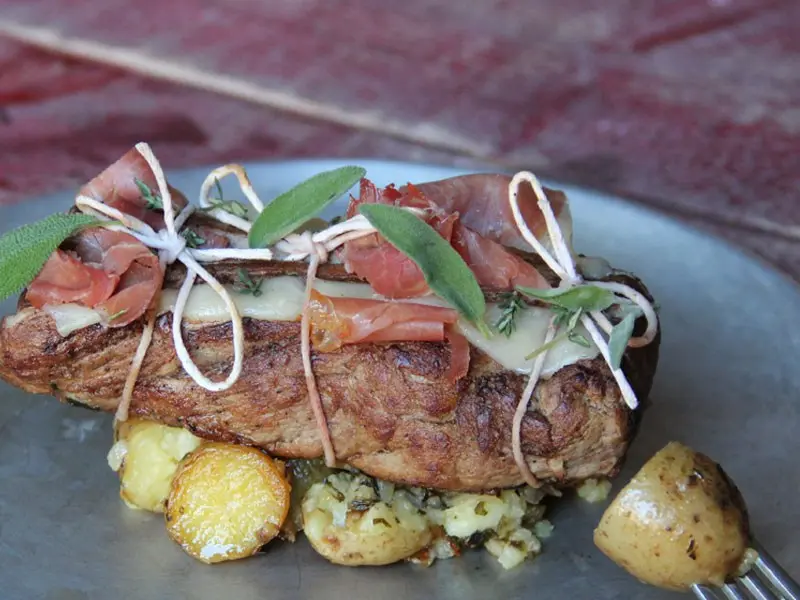 Pork
1

½

lbs - Pork Roast

6

slice Raclette cheese

6

slice Prosciutto

6

Sage leaves
Potatoes
1

lb Baby potatoes

3

sprigs Thyme

3

cloves Crushed garlic

1

White onion
Preheat your oven at 400°F
Setting up
Gently cut the pork several times, on its length, until you have roughly 1 inch from the bottom.
In between each slices stuff it with cheese and Prosciutto.
With a twine, tie the pork all around.
To give it back its shape, sear on a heated Rock Roaster by Starfrit, then place it into the oven for 20 mins at 400°F.
With the meat thermometer make sure that, at the very core of the meat, the temperature indicates 160°F.
Put an aluminum foil on top, let it rest 10 mins.
Potatoes
Clean all the potatoes while cutting them in 2 or 3 pieces.
In a hot The Rock pan by Starfrit, with a bit of oil and butter, throw the chopped onion in then the thyme and the crushed garlic and then the potatoes.
Let all the flavors come together for a good 5 mins at medium high heat.
Then place the potatoes all around the pork roast, on a cooking tray covered with parchemin paper.
Put everything in the oven for 20 mins.
Products used in this recipes