Back
Lava Cake
Description
Preparing a chocolaty dessert in a pressure cooker? It's possible! Presenting the "lava cake", chocolate cake with creamy chocolate interior that melts away in your plate.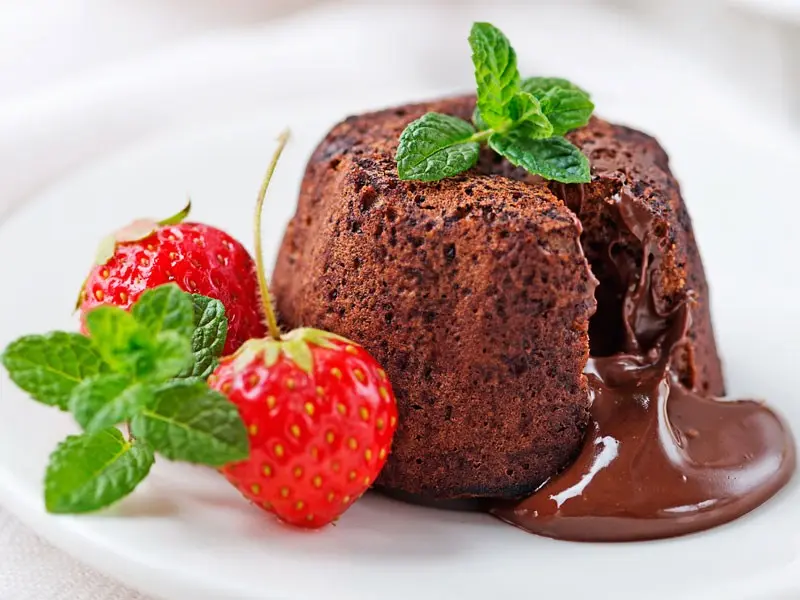 1

cup dark chocolate chips

½

cup butter

3

eggs

½

cup sugar

¼

cup flour

1

tsp vanilla extract

2

cups water

¼

cup icing sugar
Strawberry slices (optional)
Raspberries (optional)
Blueberries (optional)
Mint leaves (optional)
Place chocolate chips and butter in a microwave-safe bowl and microwave for 30 seconds. Remove from microwave and stir. Place back in the microwave for another 30 seconds and stir until smooth.
In a separate bowl, whisk eggs, sugar, flour, and vanilla together until smooth. Mix the chocolate mixture with the egg mixture and stir well to combine.
Spray four 6-7-ounce ramekins with cooking spray. Fill each ramekin 2/3 of the way full of batter.
Insert the steam rack in the cooking pot and add 2 cups of water. Place ramekins on the steam rack (it's ok if some ramekins are piled one on top of each other.)
Secure the lid and set the pressure release valve to the Sealing position. Select the Whole Grain function and press the Minute button repeatedly to set the timer to 8 minutes (8:00).
Once cooking is over, manually release the pressure by carefully turning the pressure release valve to the Release position. Leave 5-10 minutes for the pressure to fully release. Open the lid and carefully remove the ramekins from the cooking pot.
Sprinkle the cakes with icing sugar and garnish with strawberry slices, raspberries, blueberries and mint leaves.