Back
One Pot Quinoa with Feta and Vegetables
Description
High in fibers and proteins, this One Pot quinoa with feta and vegetables recipe is full of texture and flavors.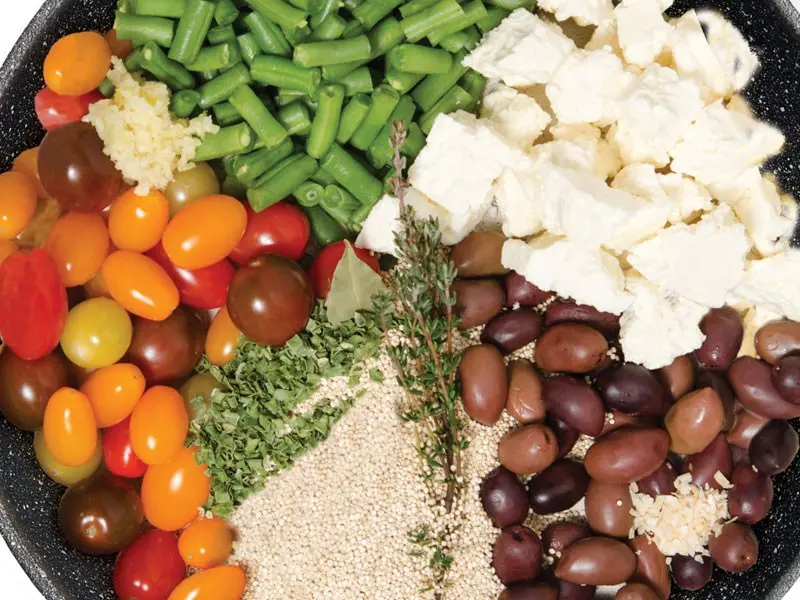 1

cup (250 ml) quinoa, rinsed and drained
1

½

cups (375 ml) green beans, cut into small pieces
1

½

cups (375 ml) grape tomatoes, halved

4

garlic cloves, finely chopped

20

to 30 whole and pitted olives

2

tbsp (30 ml) fresh chives, chopped

1

small yellow onion, finely chopped

1

tbsp (15 ml) olive oil

1 ⅔

cups (420 ml) vegetable broth

1

sprig fresh thyme

1

bay leaf
Freshly ground pepper, to taste
Feta cheese, cut into large chunks, to taste
In your The Rock One PotTM 12.5" Skillet, add all the ingredients and stir well. Cover and bring to a boil. Adjust heat to medium-low, stir and simmer, covered, for about 20 minutes, stirring regularly until quinoa is cooked. Remove from heat and let rest for about 2 to 4 minutes.