Back
One Pot Upside-Down Prosciutto and Aragula Pizza
Description
Looking for a quick dinner idea? Try this flavor-filled One Pot upside-down prosciutto and arugula pizza! Cooking the dough directly on the pan creates a crisp, golden-brown crust that will please your entire family and guests.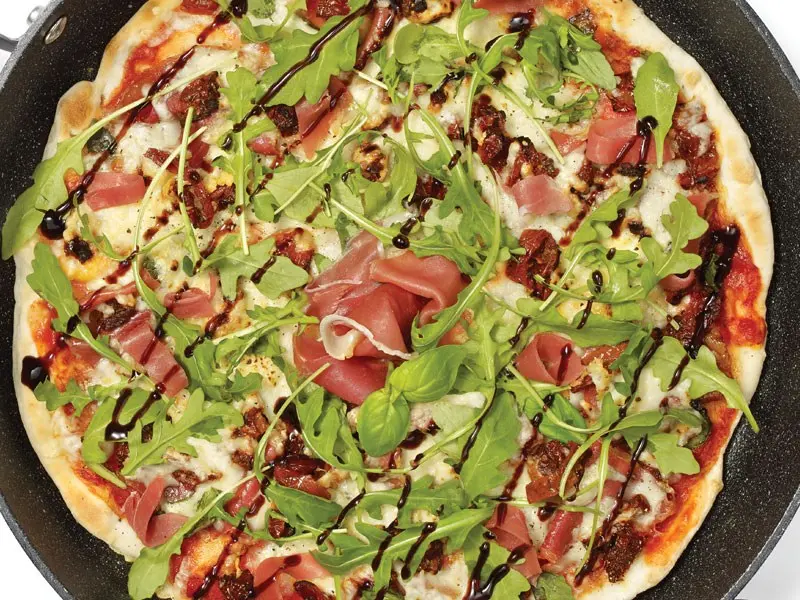 1

lb (454 g) pizza dough, thawed, ready to roll

2

tbsp (30 ml) olive oil
1

½

cups (375 ml) mozzarella cheese, grated

½

cup (125 ml) oil-packed sun-dried tomatoes, drained and chopped

3

oz (90 g) thinly sliced prosciutto (about 6 slices)

20

to 30 fresh basil leaves

4/5

cup (200 ml) tomato sauce
1

½

cups (375 ml) arugula

1

tbsp (15 ml) balsamic vinegar glaze
Dough
On a floured work surface, roll out pizza dough into large disk the same size as the bottom of your The Rock One PotTM 12.5'' Skillet (use the lid as a guide). Reserve dough at room temperature. Pour olive oil into the skillet and heat over medium to high heat until hot. Quickly add dough to bottom of pan and gently press it with a clean towel (make sure dough is in full contact with bottom of pan). Using a fork, lightly prick several holes in the dough. Allow to cook until golden brown and flip. Cook on second side for 4 to 5 minutes until partially cooked. Set aside.
Topping
In your skillet, at a medium heat setting, prepare pizza by evenly spreading cheese onto bottom of pan. Add sun dried tomatoes, 4 slices of prosciutto, basil leaves and tomato sauce. Place pizza dough on top of this mixture. Allow cheese to brown and pizza to cook for about 5 to 10 minutes. Place a dinner plate the same size as the inside of the skillet on top of the dough as you prepare to flip the pizza onto the plate. Carefully flip the pizza onto the dinner plate. Top with arugula and remaining prosciutto; drizzle with glaze.