Back
Pasta Carbonara
Description
A simple and delicious recipe in which garlic plays a key role. Garlic is a food we tend not to like cooking with because its strong odor. But with the Starfrit Garlic Press with Scraper, garlic is more accessible and easy to cook than ever!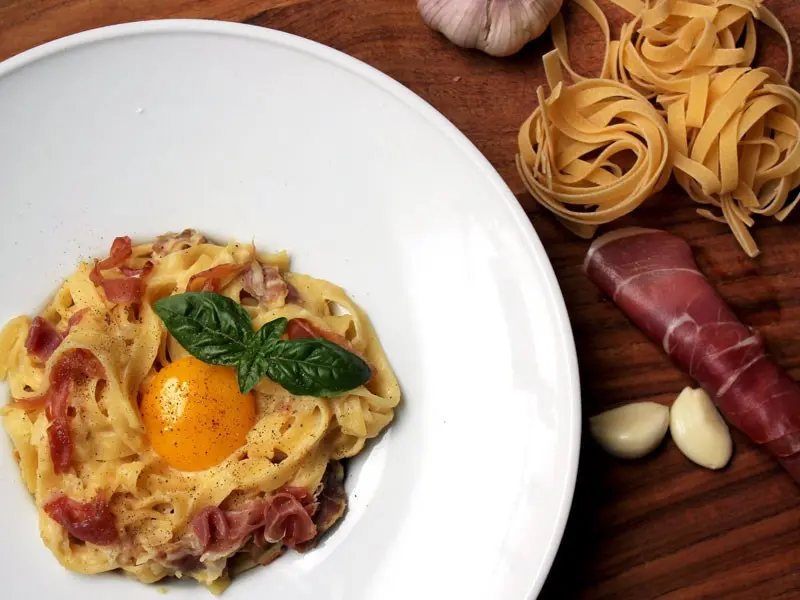 Carbonara
375

gr Tagliatelle

4

thick slices Prosciutto

1

Onion

4

Eggs

6

cloves Chopped garlic
1

½

cups Grated Parmigiano Reggiano
Garnish
4

Egg yolks

1/4

cup Grated Parmigiano Reggiano

2

sprigs Chervil
Cooking the pasta
In a pot of salted boiling water, cook the pasta until al dente.
Set aside 1 cup (250ml) of the boiled water, then strain the pasta and transfer it back to the pot.
Preparing the garnish
In a The Rock skillet with oil, sweat the prosciutto (sliced) with the onion (minced) and half of the garlic (minced using the Starfrit Garlic Press with Scraper).
Plating
Transfer the contents of the skillet to the pot.
In a mixing bowl, combine the eggs, the other half of the garlic and parmesan cheese.
Add ground pepper and then pour this mixture on to the pasta.
Transfer back onto the stove top and cook on low heat while continuously stirring.
You will notice the eggs will start to cook and thicken, coating the pasta.
Make a nest in each serving dish and place the egg yolks in the center.
Garnish with grated Parmesan.
Finish the plate by sprinkling some fresh chervil.
Products used in this recipes