Back
Pear-Almond Cake
Description
Use The Rock Collection with T-Lock Detachable Handle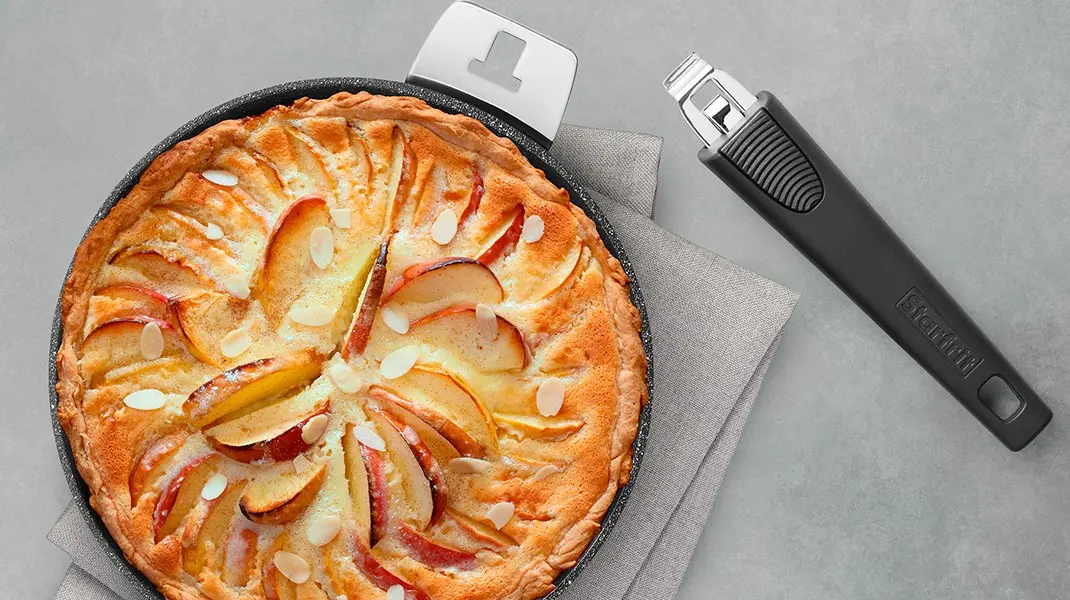 1

cup (227 grams) unsalted butter, softened

1½

cups (300 grams) granulated sugar

3

large eggs

2

cups (250 grams) all-purpose flour

¼

teaspoon (0.75 gram) salt

⅓

cup milk

½

teaspoon almond extract

½

teaspoon vanilla extract

1

large red pear, cored and cut into 12 thin slices

½

cup (57 grams) sliced almonds
Preheat oven to 350°F.
In the bowl of a stand mixer fitted with the paddle attachment, beat butter and granulated sugar at medium speed until fluffy, 3 to 4 minutes, stopping to scrape sides of bowl.
Add eggs, one at a time, beating well after each addition.
In a small bowl, whisk together flour and salt.
Gradually add flour mixture to butter mixture alternately with milk, beginning and ending with flour mixture, beating just until combined after each addition. Beat in extracts.
Spoon batter into the 9" Fry Pan / Cake Pan w/Detachable Handle. Place pears cut side down in a pinwheel fashion over batter.
Bake until lightly browned, 25 to 30 minutes. Sprinkle with almonds, and bake until a wooden pick inserted in center comes out clean, 10 to 15 minutes more. Let cool in pan for 15 minutes.