Back
Tofu and Brocoli Rave Pasta Salad
Description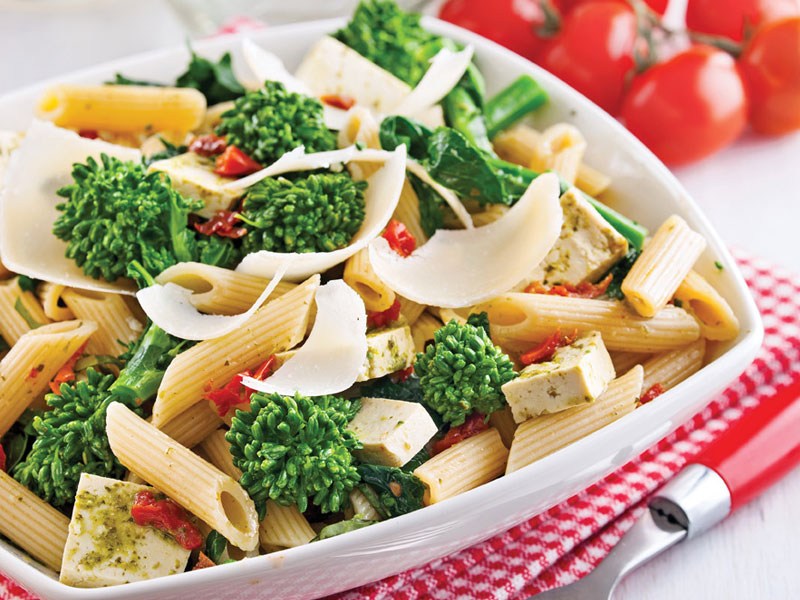 30

ml (2 tablespoons) pesto

60

ml (1/4 cup) water

1

block of firm tofu (350 g)

225

g of penne or other short pasta

1

bouquet or brocoli rabe, without stem, and chop leaves

30

ml (2 tablespons) sun dried tomatoes in oil, chopped
A few basil leaves, chopped
Salt & pepper

125

ml (1/2 cup) parmesan slices
In a large bowl, mix pesto with water. Cut the brick of tofu in slices of 1/4 inch thickness. Place tofu in pesto mix and refrigerate for at least 1 hour.
In a large stockpot, bring salted water to a boil and cook pasta. Add brocoli rabe 7 minutes before the pasta is ready. Drain but keep 1/2 cup of water. Rinse pasta and brocoli rabe under cold water. Drain.
In the bowl add sun dried tomatoes, basil, pasta and brocoli rabe. Mix and add a bit of water (set aside earlier) if salad is too dry. Add salt & pepper.
When serving, add parmesan slices.
Source: © Pratico-Pratiques 2017
Products used in this recipes
Best seller