The Rock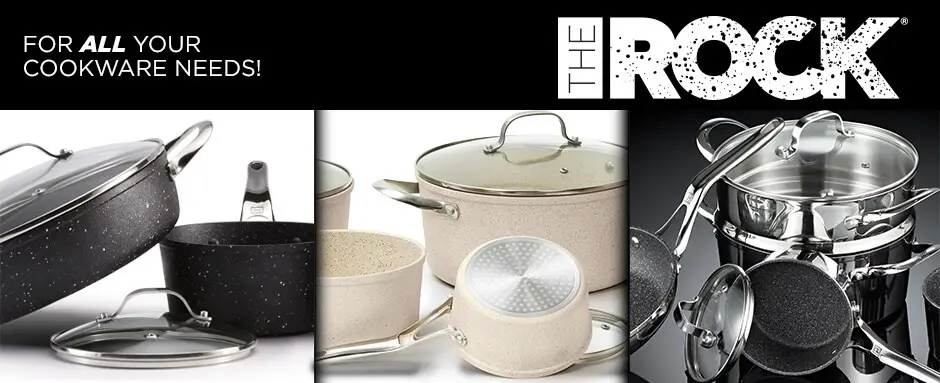 NOT ALL COOKWARE IS CREATED EQUAL…
Atlantic Promotions Inc. revolutionized the cookware manufacturing process and reinvented the meaning of high-performance pans with the introduction of The Rock. This breakthrough in cookware features an ultra hard, rock-like surface which stands out for its extended durability, enhanced non-stick qualities and improved corrosion as well as enhanced scratch and wear resistance – characteristics that quickly rendered it the go-to cookware choice for both the experienced home cook and novice gourmet!
What makes The ROCK so different?
The Rock is the only cookware collection on the market that uses the patented Rock.Tec manufacturing process. This unique surface treatment uses small pellet impact technology to strengthen and densify the surface of the cookware. This treatment is not a coating but a process that permanently alters the surface, ensuring optimal application of the non-stick coating. The result is an outstanding release performance, 3 times better than traditional non-stick cookware.

Experience the incomparable The Rock collection

The Rock Classic
The Rock Classic collection feature an extra-thick, forged aluminum base to provide optimal heat distribution for even cooking and offer superior food release that is three times better than traditional non-stick cookware.
The Rock Bi-Clad
With The Rock bi-clad collection, you can bring the elegance of stainless steel in your kitchen while having all the non-stick benefits of The Rock Classic line. In addition, the magnetic stainless steel exterior is ultra durable and compatible with induction.
The Rock Ceramic
Discover The Rock Ceramic collection, a new version of The Rock Classic, which offers the same unparalleled non-stick performance, but now with a natural ceramic surface that does not contain any chemicals. In addition, the entire collection is induction ready.
The Rock One PotTM
Discover The Rock One PotTM; a unique cookware collection that has been designed for one of today's biggest cooking trend: the one pot meal. This concept is quite amazing and results will surprise you. Simply toss all your ingredients into any The Rock One PotTM and cook together by simmering the mixture to get a complete and flavorful meal. That's not all. The best thing is that you only have one pot to clean!
The Rock ovenware
The Rock ovenware collection is designed to the same standards that give The Rock cookware its unique non-stick performance and durability. The collection includes essential kitchen favorites to satisfy all baking needs. From stove to oven to table use, each piece will provide you with unlimited possibilities.