Retour
Creamy Lemon Garlic Salmon Piccata
Description
We're sorry, an error has occurred while generating this content.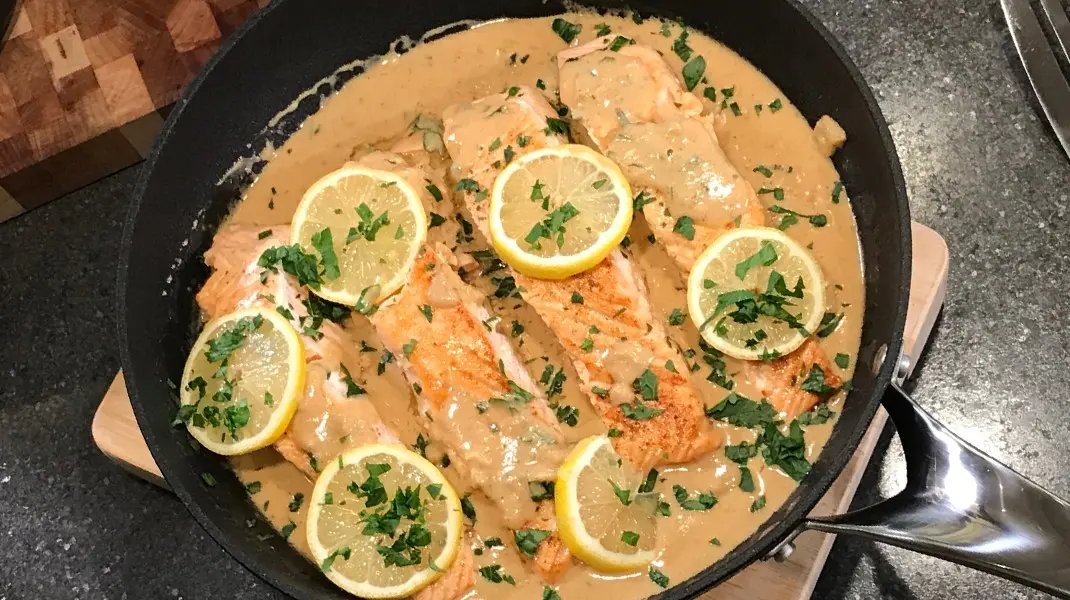 4 skinless salmon fillets (170g / 6 oz)
¼ cup flour
2 tablespoons unsalted butter
1 tablespoon olive oil
4 medium garlic cloves, minced
⅓ cup dry white wine
1 cup low-sodium chicken stock/broth

1

teaspoon cornstarch (add another one if needed)

3

tablespoons fresh lemon juice
4 tablespoons rinsed and drained capers

½

cup heavy cream
3 tablespoons coarsely chopped parsley to serve
Salt and pepper to taste
Lemon slices to serve
Season both sides of salmon fillets evenly with salt and pepper. Add ¼ cup of the flour to a shallow dish; dredge the salmon in the flour to evenly coat. Shake off excess.
Melt 1 tablespoon of butter in a large The Rock Diamond fry pan over medium-high heat. Add 1 tablespoon oil and swirl to mix through the butter. Add salmon; sauté 4 minutes on each side or until just cooked to your liking. Transfer salmon to a warm plate; tent with foil and set aside.
Add remaining 1 tablespoon butter (or oil) to pan and melt. Add the garlic; sauté for a further minute until fragrant. Add wine; bring to a boil scraping any browned bits off of the bottom of the pan. Cook until liquid almost evaporates, stirring occasionally. Add ¾ cup stock/broth to the pan along with the lemon juice; bring to a boil and cook for a further minute.
Mix 1 teaspoon of cornstarch (or cornflour) with 2 tablespoons of the reserved broth, whisking well to combine. Pour the mixture into the pan, stirring through the liquid to create a sauce. Cook for 1 minute or until slightly thickened. If it's not thick enough, mix the remaining cornstarch with the remaining broth and add to the centre of the pan. Stir in the cream and remove from heat and add the capers.
Place the salmon fillets back into the pan. Sprinkle with chopped parsley, pepper and add in lemon slices.
Serve immediately with the sauce over rice or pasta, vegetables of choice or with a salad.
Produits utilisés dans cette recette