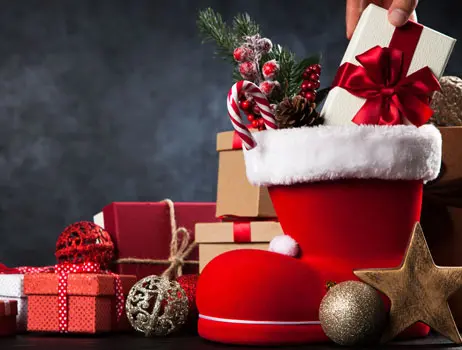 2017 Gift Guide
Christmas shopping is now in full swing and we at Starfrit want to help you get a head start. If you are like me and short on gift ideas for your friends and family, try surprising them with products everyone will enjoy. With Starfrit's complete lines of kitchen gadgets, cookware, small electric appliances and food storage items, you will be sure to find something for everyone on your list regardless of the budget. These gift ideas are sure to help any advanced cook and average weekday blazer just as well.
In the stocking stuffer category, we have the
Mason Jar Drinking Mugs
. Great for hot or cold beverages, they each come with their tightly fitted reusable straws. This 6-piece set includes 2 dishwasher safe mugs, 2 lids and 2 straws. They have a great vintage look and work perfectly for soft drinks, lemonade, cocktails and so much more. Continuing in the drinkware category, the
Cocktail Glass Rimmer
allows you to rim your cocktail drinks with the right amount of salt, sugar and spice. Its foldable body stores 3 labeled compartments: one sponge for lime or lemon juice, one compartment for sugar and the other for salt. It also accommodates glasses 1.5" to 5.5" in diameter. The
Cocktail Shaker
also makes a great gift for any cocktail enthusiast on your list. Its sturdy stainless steel exterior is perfect for all your favorite drinks. It has a stainless steel lid and strainer, has a capacity of 17oz and is dishwasher safe. Next up, we have the
Oil & Vinegar Bottle Set
. With their light bulb designs, they make great countertop pieces. Made of glass and able to hold 9.5oz of liquid, they are available in a set of 2, ideal for olive oil and your finest balsamic vinegar. It is great to keep around for use on every recipe. As a final stocking stuffer, we have
The Rock Mini Fry Pan
. With its small size, it makes a great gift exchange idea. It features the unique Rock.Tec surface enhancement: a dimpled surface using small steel pellets which results in an outstanding release performance. It is also 50% harder and 40% more resistant to abrasion than traditional non-stick cookware. If you are willing to spend a little more, here is what we recommend:
The Rock Electric Multi Pot
allows you to cook a variety of dishes in large quantities, perfect for families. From chili to stews to Pad Thai, it will last and last as it is also treated with the same permanent Rock.Tec technology mentioned earlier. With its large
4.5Qt capacity
, it will have lunches covered for the week! What better tool to have on Christmas morning than a breakfast pan...
The Rock 3-in-1 Breakfast Pan
to be exact! You can now cook up 3 different foods from a single hob. Not only does it do bacon, eggs and sausages but also steak with potatoes and veggies or fish with seasoned rice and caramelized onions, the possibilities are endless! For those aiming at a healthy New Year's resolution, the
Personal Blender
is an ideal choice. Not only does this tool make delicious smoothies, it can also blend ice into snow in seconds as well as crush coffee beans, nuts and so much more. It features 3 different speed settings (pulse, low and high setting) and comes with 2 to-go lids to enjoy shakes wherever life takes you. The Personal Blender also has a security feature blocking the blades from activating when the cup is not securely fastened. For stewing in style, offer them the
The Rock Stock Pot
. Its large 7.2Qt capacity allow cooks to make copious quantities over and over. The non-stick finish makes cooking and cleaning a breeze. Perfect for every occasion! Finally, perfect for special dinners, a snack or desserts in wintry weather, there is the
Electric Fondue Set.
This 12-piece set comes with a 3.2Qt stainless steel fondue pot, a heating element with its custom-fitted cover for added safety, a magnetic breakaway power cord and 8 stainless steel forks. Best of all, the fondue pot is stovetop compatible and, like the forks, it is dishwasher safe for easy cleanup.