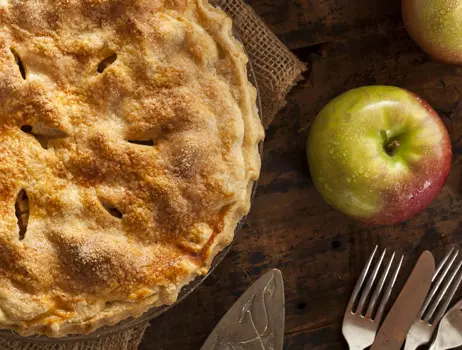 4 Secrets to a Perfect Pie Crust
As Christmas carols officially begin to haunt us, the time has come to seek shelter in the comfort of our homes; what better cocooning activity than baking pies! However, the mixture of flour, water and fat can often cause headaches so here are 4 easy tips for perfect pie crusts every time.
1. Gluten : not just an allergy issue
Gluten is formed with the binding of proteins found in flour that are brought together with water. Thus, water (consequently gluten) must be kept to a minimum because more gluten will make your crust fluffy and less crispy, more suitable for cakes and breads.
2. Stay cool!
Water and fat must be kept at a cool temperature so fat does not fully melt early on. Using butter straight out of the fridge and icy-cold water will also help you yield the optimal amount of gluten.
3. Rock your pie!
For the best pie crust, your cookware must heat all parts evenly. With its thick base and high walls,
The Rock 8" x 1.5" Round Bakeware
is the ideal cooking tool to guarantee a perfectly crisp and flaky crust that stays in place.
4. Don't knead to stress
The best way to mix and knead your dough is not with a food mixer, nor your hands, nor your feet… but with a
Silicone Spatula
. By kneading your dough with a spatula, you are creating flaky layers before cooking even occurs. You can also protect your pie crust during cooking with the
Silicone Pie Crust Shield
.