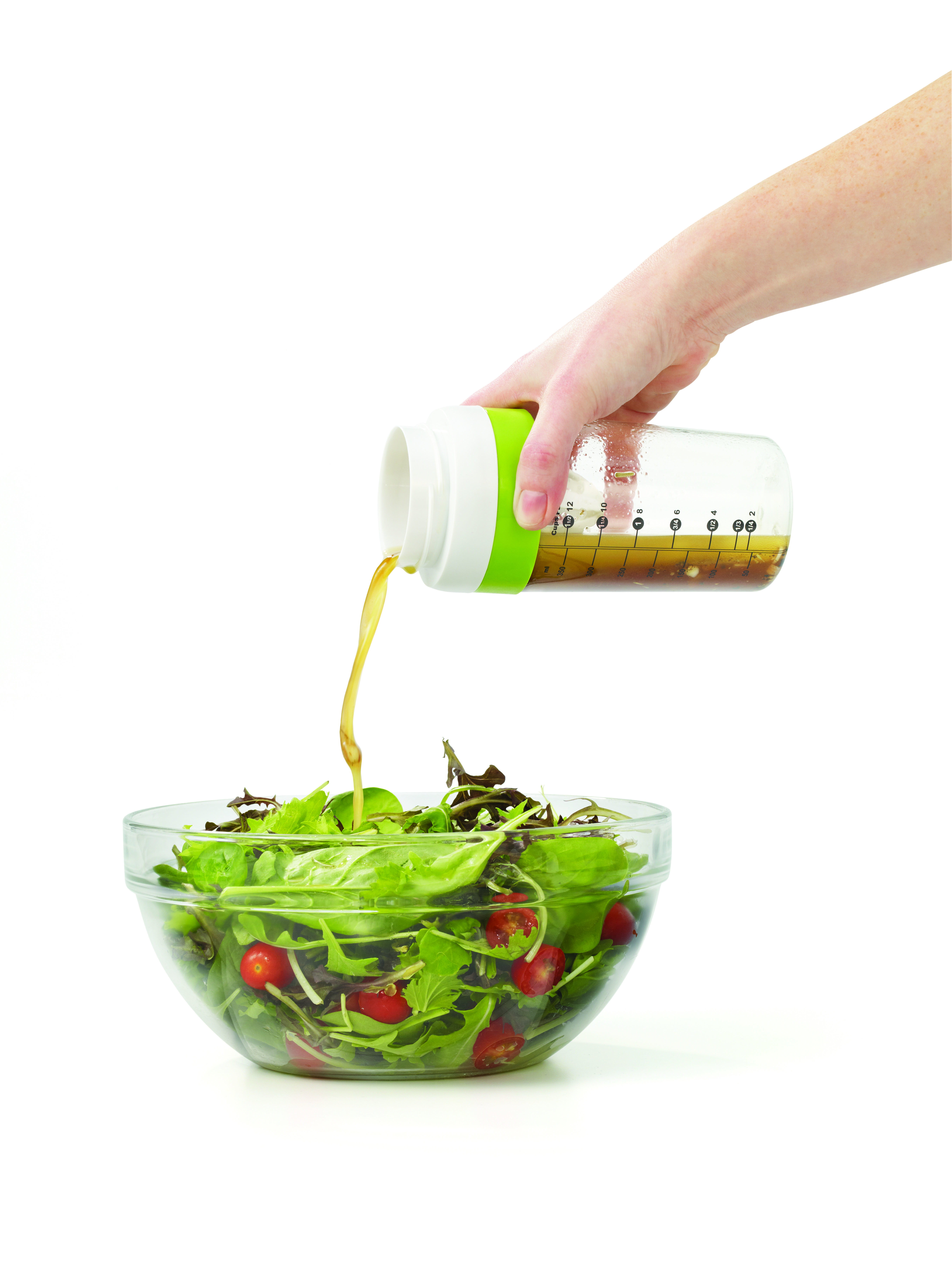 Celebrating National Salad Week
A salad is always a winning option for a meal or side dish, but even more so during the last week in July, when foodies celebrate
National Salad Week
. It is a great time to fill up on nutritious veggies and fruits, lean proteins, nuts and seeds, so you don't feel weighed down during the hot summer days. You can add a punch to your salad by getting creative with different combinations and healthy homemade dressings. Here are a few pointers for making fun and healthy salad dressings.
Make dressing directly in your salad bowl. You can also make salad dressings inside an old fruit jam jar to give the dressing a little sweetness. The same goes for any almost-empty mustard bottle. After shaking the bottle, you can even squeeze your dressing directly on your salad! Of course, you can always use Starfrit's dressing shaker for optimal results.
Always taste your dressing with a piece of lettuce or other ingredients found in the salad because dressings often taste too harsh by themselves. Sample it before you cover the entire salad.
Keep the salad leaves crisp by dressing them lightly. Follow this rule of thumb: use a half tablespoon for a side salad and a full tablespoon for a meal.
Try different oils and types of vinegar for your vinaigrette such as red wine vinegar, balsamic vinegar, apple cider vinegar, sesame oil, coconut oil, etc.
Make sure to include lemon juice or the juice of any citrus fruit to give the salad more taste with zero calories! Use Starfrit's Citrus Squeezer or Sprayer & Juicer to extract the juice easily.
Greek yogurt can act as a great base for any salad with its creamy texture and high protein content.
Take the dressing out of the fridge at least 10 minutes before salad preparation. Dressings always taste better at room temperature.
Make a double batch of dressing so as to use leftovers for marinating meats, dipping vegetables, making pasta salads, etc.
Include leftovers from previous salads to mix even more different tastes.
Store your salad properly to maintain freshness and taste. One method is using plastic wrap and paper towels. Put the dressed salad in a large bowl and drape with a paper towel so moisture does not rest on the salad. Finally, cover everything with a tight plastic wrap seal. To extract the extra moisture after washing the lettuce leaves, Starfrit has a wide range of
salad spinners
to choose from. The bowls can also be used to serve the salad once prepared.
Alternatively, you can use the bath towel trick. First, chop salad into bite-size pieces and wash thoroughly. Next, shake off excess water in a salad spinner. Then, spread the chopped salad onto a large bath towel and let it rest for a few hours. Lastly, roll up the bath towel and store it on the bottom shelf of the fridge. Enjoy the fresh summer veggies!