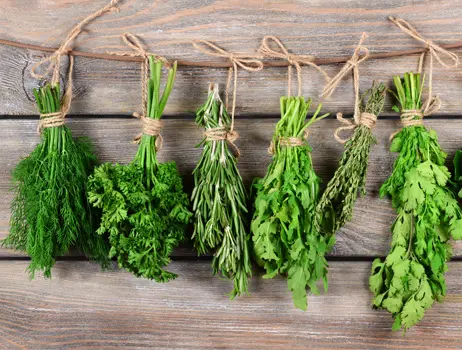 Cooking with Fresh Herbs
Yes, we've all heard it… Fresh herbs taste better than dried ones. However, choosing, harvesting, pretreating and storing fresh herbs can often seem a little cloudy to the amateur cook. They are without a doubt one of the most particular ingredients out there and deserve to be treated as such. Today, we will shed light on some of these particularities as well as how and when to use herbs for everyday cooking. Choosing herbs When choosing your herbs at the grocery store, make sure they have a vibrant green color. Avoid any general yellowing or black spots. This is often caused by grocery stores over spraying produce to give the illusion of freshness when in fact it encourages rot and mold. Also check for smell. If the leaves are fresh, their smell will be very easy to sense from a close range. Always remember: if you can't smell them, chances are you can't taste them! Storing herbs Now that you've brought your herbs home, you must now remove them from any fastening like rubber bands and ties. Keeping herbs tightly bound can bruise them and negatively affect their longevity and flavor. Then you must cut away all root ends to avoid drawing moisture away from the leaves and drying them out. If you are not using your herbs right away, you can wrap them in slightly damp paper towel and place them in a sealed container with some air to then store in the warmest part of your fridge. Remember to use them as soon as possible as they do not have a very long shelf life.
Prepping herbs Only wash your herbs when you are ready to use them. You can do this by placing them in a bowl of water and gently moving them around to remove dirt. Then, delicately pat them dry with paper towel or drain them with a salad spinner. To get the most taste out your herbs, make sure they are chopped as finely as possible. This will ensure that the herbs' oils and fragrances are fully released and infused into the food. To make this easier, your cutting tool must be as sharp as possible. If a blade is too dull, it will bruise the herbs, just like the rubber bands! Scissors make a great tool for this because they can easily cut the herb without pressing it against a cutting board like a knife. Cooking with herbs When cooking, make sure to throw in your herbs at the right time. Including them at the beginning will only give you a hint of the herb's taste while putting them at the end will provide much more flavor. For delicate leaves like parsley and cilantro, it is recommended to include them only when taking food off the heat, right before serving seeing as they lose their flavor fairly quickly.
Everything you need for herbs To get the most out of your fresh herbs, check out Gourmet by Starfrit's new line of Herb & Salad accessories.
Make sure to subscribe to our newsletter for tips like these, recipes, promotions and much more!