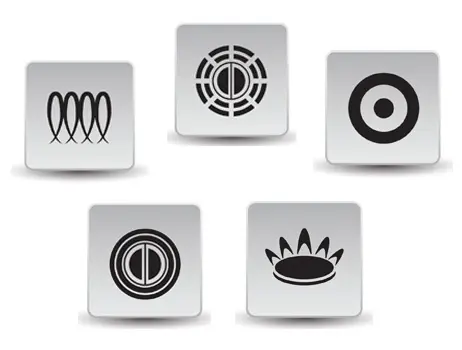 Demystifying types of stove tops
Looking for information on the best stove top? I'm sorry to say that preference plays a large role in the choice of a cooking surface. Let's see what the particularities are for each type.
Although gas burners are among the oldest of hobs, it is still one of the most preferred types based on its easy controllable flame and adjustment of heat. Any types of cookware are suitable for this type of stove top. Make sure you adjust the flame to prevent it extending on the sides of the pan, as this wastes gas and can damage the utensil's exterior and handle.
Electric coil burners heat more slowly and retain heat longer than gas ones. While cleaning this cook top, it is important to remember to clean beneath it after unplugging. Without proper care and cleaning of this hob, grease and spills may accumulate overtime and further damage the coil in the long run. All types of cookware are suitable for this type of stove top.
Ceramic stove tops are electric with a smooth, easy-to-clean surface. What's great about these stove tops are that they heat up rapidly, and the surface is completely flat, so no food residue can accumulate. In order to keep its maximum performance, the use of not perfectly flat cookware is not recommended. Moreover, to preserve the beauty of the cooking surface, lift the pan rather than sliding it across the glass plate.
Halogen cook tops give you the convenience of electric cooking with all the speed and power of gas. Halogen stoves conduct heat from the halogen lamp to the ceramic or glass cooking surface above, eliminating the risk of interior gas leaks. When using a halogen stove, only the cooking area heats up, leaving the surrounding surface cool and reducing the risk of burns.
Induction cook tops are becoming more and more popular today. This style delivers the rapid heating of gas with the cleanliness of ceramic hob. The heat is generated by creating a magnetic field underneath the ceramic veneer and is then transferred to cookware. This means you can touch the surface without the risk of burning yourself, as a result they're a popular choice with families with young children. Induction cook tops are only compatible with cookware with a magnetic bottom. Now that you know all the information, which one do you prefer?