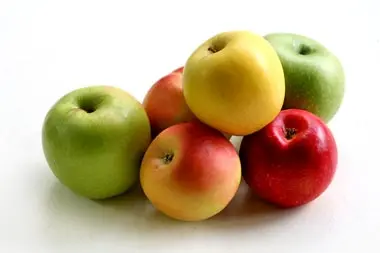 Every Apple Has Its Place!
As the trees reveal their many colors and temperatures begin to drop, nothing becomes more fitting than wholesome and comforting recipes to prepare and enjoy with close ones. One popular ingredient in said recipes is the
apple
. However, choosing from the 30+ types of apples can get quite overwhelming: different types fill different roles. Here is a list of America's most popular apple types and their unique applications. First we have the
Pink Lady (or Cripp's Pink)
which is known for its crunchy texture, sweet-tart taste and juicy, fizz-like flesh. Like many apples, it works great when baking because it retains its shape in intense heat. It is also very slow to oxidize which makes it great to chop and serve on a cheeseboard, in sandwiches or in salads. Like other sweet-tart apples, it lends more sugar and flavor to purées and applesauce.
Pink Lady Another is the
Honeycrisp
. Originating from Minnesota, it is among the most versatile apples out there. Nothing gets in its way: be it baking in any ovenware, chopping and serving with a sauce, eating raw, puréeing, canning, you name it. It retains its sweetness and crisp texture no matter what you put it through.
Honey Crisp On the other hand, one of the least versatile apples is the
Red Delicious
. Although it is not a baker-friendly fruit, it can successfully be used to make sauces and soups due to its fragile flesh. It makes a great pair with cinnamon, cheddar cheese, horseradish, chard, cherries, mustard and pecans.
Red Delicious
McIntosh
apples, other than being one of the oldest known types of apples (approx. 205 years old), have their own optimal applications. Due to their slight spiciness, they can be used to make great apple cider and meat marinades and stuffing. The McIntosh's softer texture can tenderize and add moisture when baking cakes, breads and cookies. Among its preferred sidekicks are maple, pork, Gorgonzola and strong cheddar.
McIntosh The
Gala
apple positions itself among the most popular types of apples. It has a very accessible and light taste making it perfect for kids' lunch containers. In addition, its sweet flavor becomes milder when baked which makes it a perfect ingredient to pair with stronger apples. Galas are also a great canning outlet because they blend beautifully in chutneys and salsas once peeled and diced.
Gala On top of being available year round, the
Granny Smith
apple also browns very slowly slotting it perfectly in the fresh preparations alternative. This green produce makes a great sweetness complement to meat pastries, bread stuffing, risotto and potato pancakes. Plus, it is known to stabilize blood sugar and contains many antioxidants. Best of both worlds!
Granny Smith
The right tool to peel your apples!
Want to cook with apples but don't have the patience to peel them all? Use our apple peeler! It peels apples in 5 seconds or less taking off just a thin layer of skin!