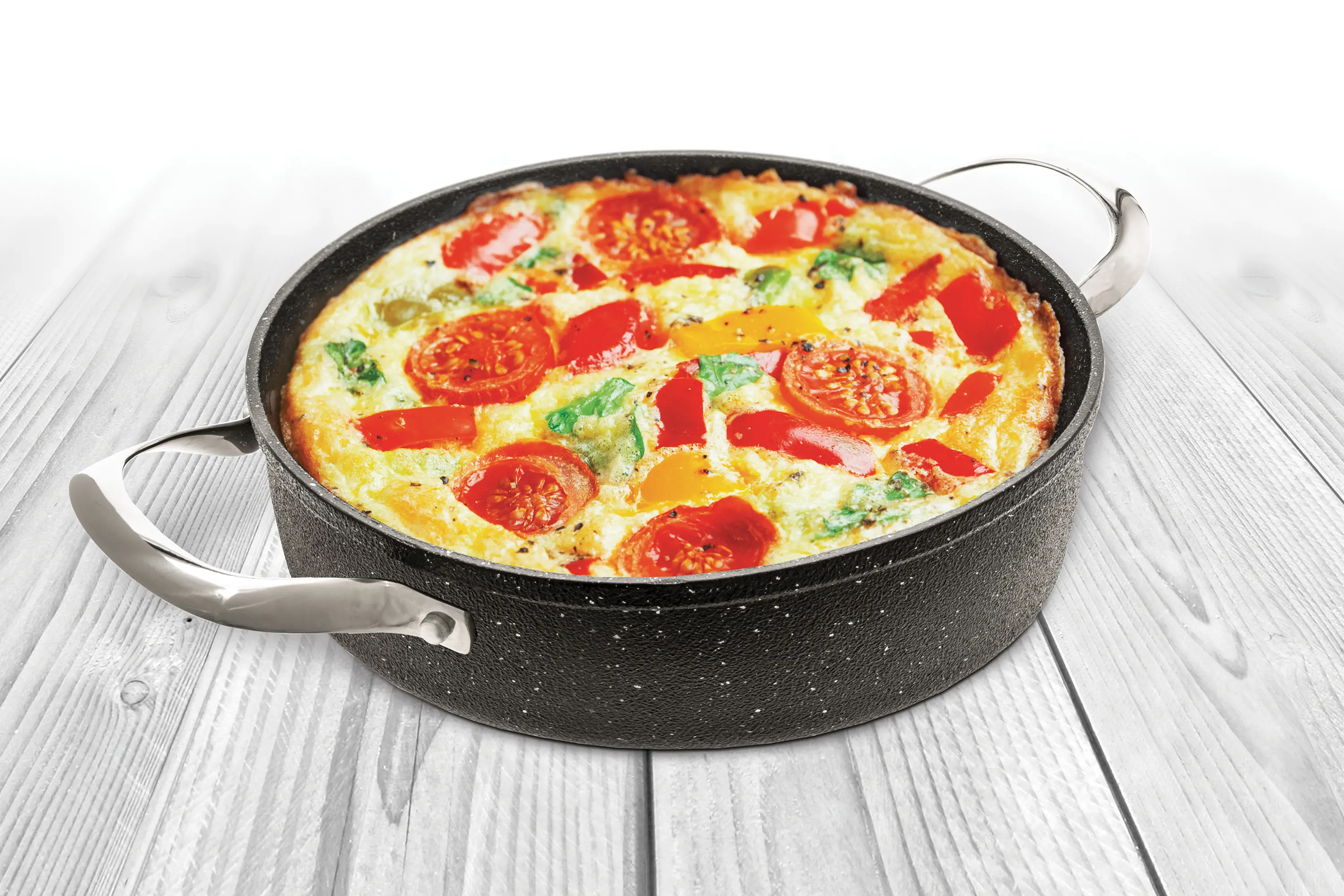 Gourmet Breakfast Made Easy with The Rock Ceramic
Breakfast on the Run or Goumet Brunch Chez Vous
Everyone has their favorite meal but it's widely accepted that a great breakfast packs several hours of nutritional jet fuel, making it a clear winner. No wonder breakfast is now an all-out trend. Restaurants and toney brunch places (or cafes now adding breakfast) are sprouting up everywhere!  What beats starting your day with a great boost of taste and nutrition? Most of us are living in the fast lane (even a home office has its stresses), the appeal meal of a commercial, drive-thru breakfast sandwich, which stacks protein and carbs together in an eat-out-of-hand meal, is a given.  Unfortunately, as convenient as these commercial options are, they're often low on lean protein, the cheese is usually the processed type, and the overall sandwich flavor is courtesy of excess, unhealthy grill fats and too much salt.  This lack of dense, natural nutrition along with the fact they're portioned a bit small, results in a quick four-bite devour and an hour later, you're liable to still be hungry. Fortunately, a home-made
Breakfast Sandwich
is a cinch, especially with any of
The Rock Ceramic
skillets (or ovenware) as your 'sous chef'. Happily too, these are all-natural, chemical free surface ceramic and work with both traditional range or induction. The natural non-stick quality also ensures you can use less fat with any recipe. With this cookware and the recipe provided, you can make big batches of stove-top or oven baked eggs to stack into your own make-ahead breakfast sandwich.
When you talk breakfast sandwiches, you're talking eggs. Just consider that eggs are one of the most nutritionally dense, natural foods on the planet. Their iron is 97% digestible, they contain a significant amount of vitamins, A, D, E, B
1
, B
2
, B
6
, B
12
, folate and pantothenic acid (B
5
) as well as calcium, phosphorus, magnesium, iron and zinc. All of this with only 71 calories, no carbs and five grams of fat (provided you cook them without adding too much fat), they are also one of the best sources of protein. These sandwiches also do double-duty at other meals - they're perfect for a homey Saturday snack or as a casual snack to tote along to the hockey arena or soccer field. Add a cup of Joe and you're good to go. For the gym, post work-out just when you're starved, and you score a high protein/good carbs appetite zapper along with some omega-3's to quell the munchies and keep your healthy regime on target. Speaking of eggs, I've also included a bonus brunch recipe of an
Oven Apple Pancake
that's perfect for your next brunch or a decadent breakfast for two. Here too The Rock Ceramic shines, allowing stovetop to oven cooking and excellent release. Just remember that
The Rock Ceramic
heats up slowly and retains its heat, so low to medium heat setting is fine.
Recipes
By Marcy Goldman, BetterBaking.com