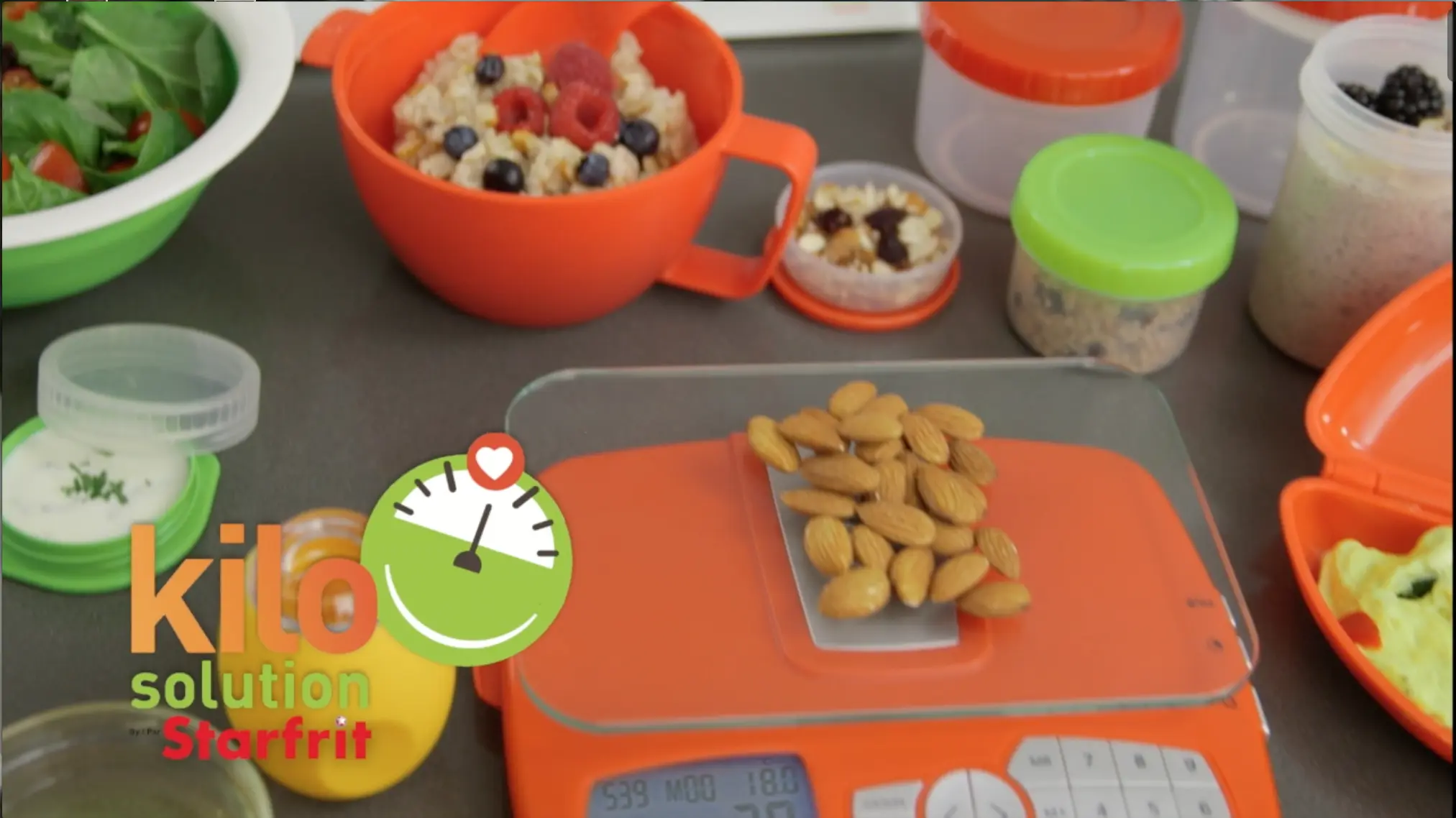 Good Food and Great Containers Go Hand in Hand
Starfrit Launches Kilo Solutions with Nutritional Super Star Isabelle Huot
Article by Marcy Goldman, BetterBaking.com* Spring has sprung and with it comes our goals to improve or add to a healthy lifestyle. What better way than to pair those good intentions with the newest from Starfrit, the Kilo Solution new product line. This innovative collection is a marriage between the vision and production expertise of Starfrit and Quebec nutritional rock star Isabelle Huot ** has resulted in a buffet of great new products to help you launch into spring and support your journey towards a fresh new way of eating. The result is a three-way win: dedicated, compact containers along with cook-and-go items that support high nutrition. Because of their design, they also make portion control as easy as fill and go. The bonus is you also save when you bring along healthy snacks at-the-ready, instead of choosing impulse sugar, carbs and extra fat (too readily available) that happens when you're not prepared. Ever struggle for containers, groping for lids or flimsy bowls that have no covers and/or ends up with a mess of food? No more! On-the-Go Lock&Lock Twist Containers come in a variety of sizes, complete with helpful measurements on the side, making portion control clear and easy rather than a guesstimate! Pack them in your office lunch or tuck them beside you on your daily commute and you'll be ensured a healthy snack (versus the closest drive-thru) is within your reach. Pack up some heart healthy nuts (Brazil nuts are a great source of selenium or almonds for a dash of calcium), or anti-oxidant fruits (blackberries, blueberries) or some chunks of cheese with whole-grain crackers or some Greek Yogurt. Additional recipes can be found in our blog.
The seals are tight, (some containers like the salad bowl are fully collapsible making storage a cinch). They pop out of the dishwasher as sealable and new no matter what you put them through. Beautifully styled, at a glance, you'll soon find yourself equating good food with Starfrit Kilo Solution On-the-Go Containers that will inspire you to eat better daily.
Lock&Lock Containers
A companion line of the Kilo Solution, also geared for both home or on-the-go to table nutrition are the Lock&Lock containers, including Lock&Lock Glass, Krystal, and Classic. As a professional chef and cookbook author, I've relied on these storage containers from pantry to oven, to fridge and dishwasher. I'm always delighted at the clarity and durability of the line (nothing beats glass for displaying food), as well as the never-ending, perfect 4-way seal of the lids.
Smaller containers still are on-the-go handy but overall, this is the perfect food storage system for home base. You can see everything clearly, food is organized and appetizing, the containers are also stackable. And what beats making a lasagne in one dish and storing leftovers in the same (easy wash) container with a lid (lids don't go in the oven).
Related recipes
Asian Chicken Salad (goes with On-the-Go Salad Kit Kilo Solution) Maple Oatmeal (for On-the-Go Oatmeal Kit Kilo Solution) Steamed Greek Fish (for Square or Oval Silicone Steamer)* Marcy Goldman is a Montreal-based cookbook author and professional chef and host of www.BetterBaking.com. A contributor with Costco, the Montreal Gazette, Martha Stewart Sirius, and the Washington Post, Marcy is delighted to be sharing her special recipe creations with Starfrit ** You can discover more about Isabelle Huot on her web site.