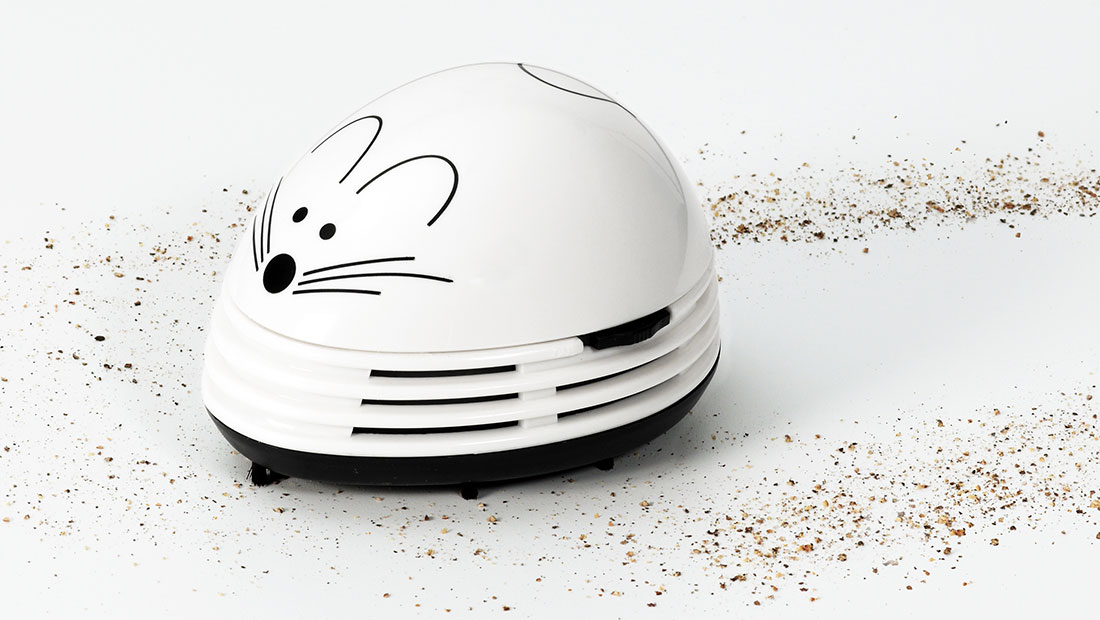 Mini Table Cleaner by Starfrit
Starfrit Mini Table Cleaner
It's so easy to make a mess in the kitchen, but those messes aren't always so easy to clean up. Little crumbs and food bits can get everywhere, and wiping the countertop with a damp sponge just knocks those food bits on the floor and makes it worse. That's where the Starfrit Mini Table Cleaner steps in. These handy battery-operated vacuums make a great gift or stocking stuffer, and they are so helpful to have around the house. The handheld vacuums have soft bristles on the bottom and a gentle motor that are specially designed to not scratch your kitchen countertops and tables. So when you've made a mess of crumbs from baking cookies, or you've just finished chopping herbs and there's little bits all over the countertop, Starfrit's Mini Table Cleaner will be there to wipe it all away.
The mini vacuums come in three cute designs—a ladybug, a mouse, and a mushroom—so everyone's going to want to help clean up…even the kids! Just flip the switch and slide it across the counter, the mini vacuum will do all messy work for you. Imagine the kids cleaning up their toast crumbs at the breakfast table, or easily cleaning up coffee grounds off the counter by the coffee grinder. And once you've filled it up, it's so easy to clean: Just twist off the bottom tray and dump the crumbs right into the garbage can, then you're ready to get back to work. But these handheld cleaners aren't just for the crumbs on your kitchen counters. When the kids have friends over and craft time turns into a mess of glitter and paper shreds, these mini vacuums are perfect for teaching them how to clean up after themselves. Or if you've just finished putting together a report on your desk and there are paper hole-punches scattered all over the place, grab your mini vacuum to sweep up the mess in no time. The vacuums are gentle enough that you can even use it to help clean up your computer keyboard if your snack crumbs have settled into the keys.
So if you're looking for a way to make cleaning fun for the kids, or you're just tired of making a bigger mess trying to wipe up food crumbs with a wet sponge, the Starfrit Mini Table Cleaner is waiting to help you make cleanup a breeze.
Related products