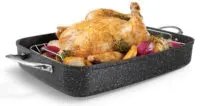 Roasting Like a Pro
The process of roasting can sometimes seem like a long and arduous one but it can also be one of the easiest and most rewarding cooking methods when done right. For example we find that there is
little to no effort required while the food cooks
. It can serve as a family Sunday dinner or a last minute weekday supper and remain an accessible and hearty meal. The first thing that must be addressed is
having the right cookware
. The ideal roasting pan has a thick, heavy and flat bottom, a wide cooking surface and short walls (about 3'' high) so that the surrounding heat can easily access the food. It also has a rack on which to place the food to prevent it from bathing in its juices. All these can be found in
The Rock Roaster
which comes with a Stainless Steel Rack.
Before cooking the food, it is important to let it stand until it reaches room temperature. Then, it must be coated with salt, pepper and oil which will all be absorbed during cooking. If we are talking vegetables, make sure to cut them in equal generous chunks so they can preserve their juices better and extend their cooking time so as to cook as long as the meat, in the same pan. Finally, make sure you use butcher twine, depending on the meat, to keep your food in place.
There are 4 schools of thought when it comes to cooking temperature.
A low heat
means the meat is less likely to overcook but it foregoes a crusty skin and the result is similar to that of braising or steaming. Cooking at
high heat
increases the risks of overcooking or drying the meat but it will provide that nice crust around the food. The last two methods can be used interchangeably -
low heat, then high
and
high heat, then low
. They both give the same result: a moist texture inside and a crispy texture outside. In any case, any aspiring roaster must use a
meat thermometer
in the fleshiest part of the meat; it is the most reliable and accurate way to know if meat is cooked inside out. Apart from using the thermometer, never pierce the meat! Its skin locks in all the tenderizing juices and should therefore not be perforated.
Finally, juice drippings not only serve as a basting sauce, but also as a sauce to be added while eating the roast where it can nicely cover up any overcooked roast! However,
basting is not for all roasts
: a standing rib roast should not be basted because one of its greatest attributes is its salty crust and most whole turkeys and chickens have inherent fat allowing them to self-baste. Frequent basting also means opening the oven door and letting heat out which slows down cooking time and makes for uneven roasting.