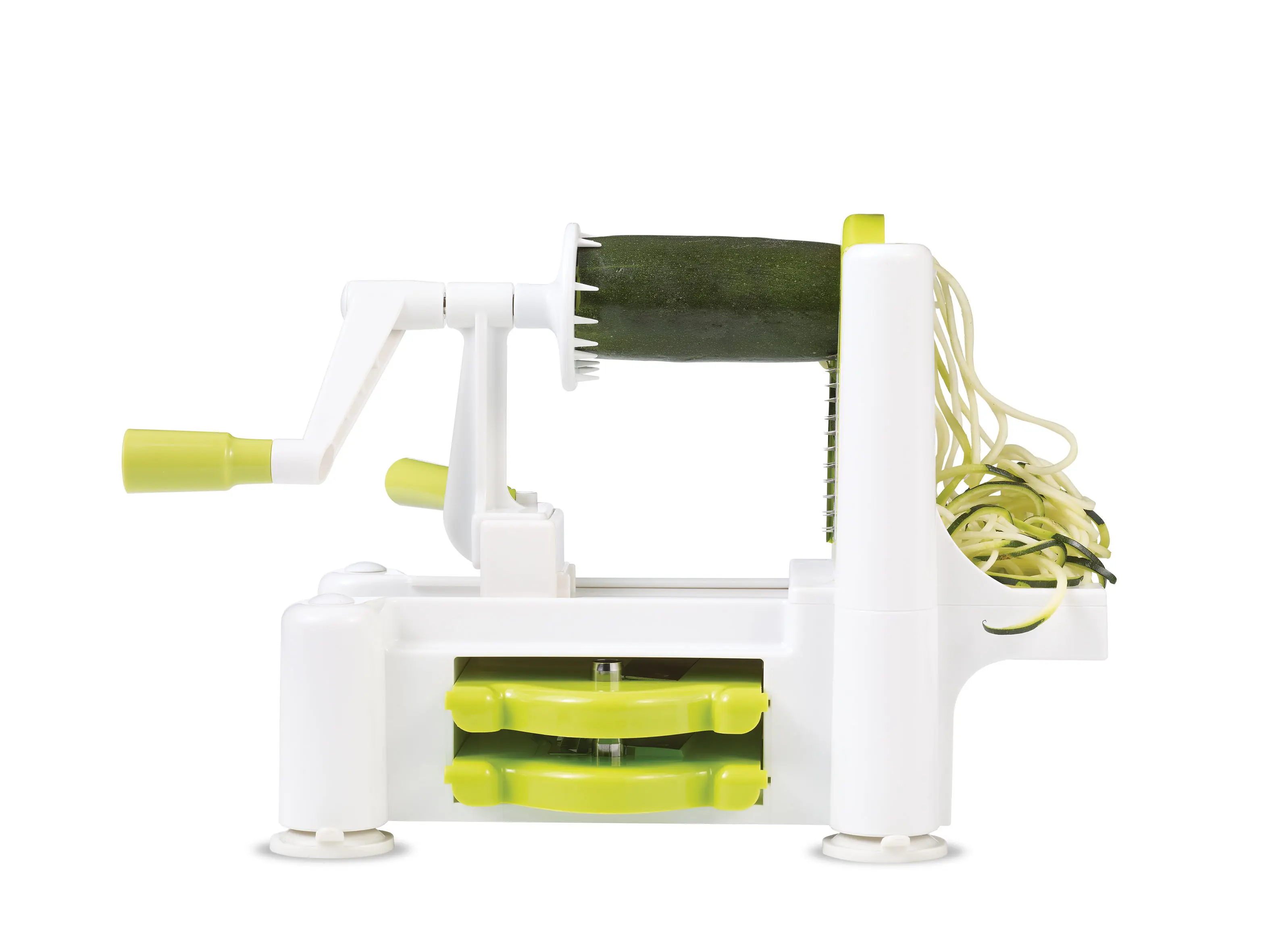 Spiralizer – Pasta and Salad
Have Guilt Free "Pasta' and Salads That Turn Heads!
Everyone knows vegetables are good for them and few of us get enough of them on a daily basis. But with a
Starfrit Spiralizer
, vegetables are not only easier to include but also fun to create both nutritious and aesthetic meals of every description. It's an all-in-one art project/meal-maker! A Starfrit
Spiralizer
instantly transforms your culinary abilities with one whirl of the handle, allowing you to cut, slice and swirl all sorts of healthy vegetables into Cordon Bleu chef accuracy. But the real thrill is, you can take common, at-the-ready fridge items (beets, carrots, zucchini, sweet potatoes, cabbage) and create instant vegetable 'pasta'.  Finally, there's a perfect way to have all the vitamins you need along with carbs that are good for you and overall, lighter to digest. This is great news for anyone aware of health trends but in particular, if you're on a carb reduced or carb sensitive diet or Paleo, Weight Watchers and other diets, knowing you can still have your 'pasta' without guilt and undue calories from starchy carbs (such as wheat pasta), is a revelation.
Three blades allow for a variety of cutting choices, as per your recipe needs or the vegetable itself. Easy to use and safe, within minutes you have tendrils of garden-fresh zucchini or sweet potato 'pasta' (or regular potato curly-q's). For dessert, change the blade to create perfect apple slices for your next apple tart that is pastry shop perfection. What I like best about the Starfrit
Spiralizer
is two unique attributes: vegetables that are professionally looking and cut differently, somehow taste better or new. This is especially true of the tri-colour Spiral Salad in this month's column. The plated salad is also great if you favor chopsticks to eat with and pretty salads like this make lunches with friends a little more impressive (if you're hosting). Similarly, if you're making a delicate Asian-style vegetable soup, spiraled vegetables add to the light touch and look.
As for the vegetable 'pasta' let's admit it: part of the reason some of us like pasta is the mouth-feel of the noodles and sheer 'bulk' of the food with a sauce (or just oil and garlic added in) to toss it with. Zucchini or sweet potato pasta satisfies insofar as mouth feel and that carbo-bulk but offers far lighter fare with a host of vitamins you might be missing. In this month's offering from Starfrit's Kitchens, my spiralized sweet potatoes and turkey sausage is a satisfying, rustic dish anyone can make. But feel free to start your spiraling with simple zucchini, barely blanched in water, drained and tossed with fresh Parmesan, sea salt, pepper and a squirt of sunny lemon. A broiled filet of sole or salmon alongside zucchini pasta makes this a totally balanced meal fit for a king. The diversity of what you can spiral or slice and create is endless!
Recipes
By Marcy Goldman, BetterBaking.com