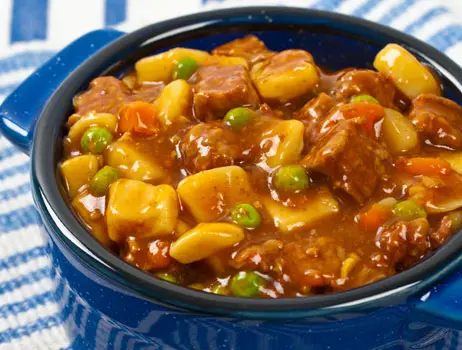 Start Stew Season on The Right Foot!
As the chilly weather creeps in, we lie in search of comforting and wholesome meals to ease the transition. One popular example is the stew for its simplicity, accessibility, customizability and copiousness. Although it is an easy dish to cook, there are several misconceptions on some aspects of stewing worth addressing, notably braising, the tenderizing process, best cuts of meat and the inclusion of fat. While there are many types of stews, we will stick with the most common one going forward, beef stews. The first part of any stew is braising: when you brown your meat before putting in the veggies and fluids. Against widespread belief, most browning takes place before putting in liquids. Any good stew requires thorough braising on each side of the meat. Don't be shy to let it simmer a couple extra minutes as the burnt crisp edges left on the meat and bottom of the pot will add a rich and caramelized taste, rendering your stew irresistible. Also, don't worry about breaking your jaw with overcooked meat, the boiling fluids will effectively tenderize the food.
Having your stew simmer all day long won't necessarily make the meat more tender. In fact, heating it for too long will make your meat dry and your veggies too mushy. For the right texture, the sweet spot remains no more than 2-3 hours. Stewing is the time to go for the tougher, cheaper cuts of meat. As mentioned before, the simmering liquids will tenderize the strongest of meats so no need for lean, pricy cuts. With regards to beef, the best parts for stew remain chuck and round (the bone in beef round can add a lot flavor and is easily removable once the stew is ready to serve). Just like too much cooking time will make your meat dry, excessive fat will make your stew overly decadent (yes, there is such a thing). A stew is meant to be slightly thick but not smooth and too much fat will give it the same texture as chili. For this reason, make sure to skim as much fat as possible at the surface during simmering. If you are refrigerating your stew, skip this step and skim the stew afterwards as the fat will be more easily extractable post-refrigeration. If you prefer a thicker stew, you can always coat your onions or meat with flower before cooking.
For the best stews, make sure to use the durable and lightweight The Rock cookware. It is the only cookware which has been through the patented Rock.Tec process that modifies the cooking surface to form a rock-like finish for an outstanding non-stick performance. With a complete line including dutch ovens, stock pots, saucepans and so much more, it is your one-stop shop for all things stew.