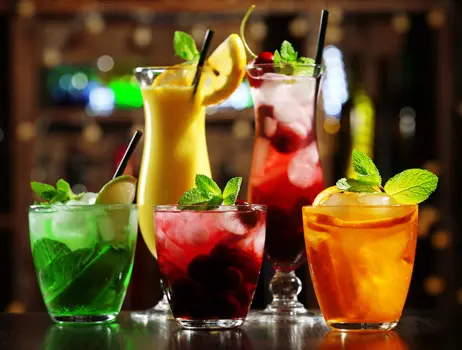 The Science of Cocktails
Rum? Check. Whiskey? Check. Limes? Check. Soda? Check. Mixing skills?... Forgot em' at home again, didn't you? Don't worry, you will still get through your New Year's Eve party if you believe in yourself!... and in this blog. Let us go through a lesson in mixology that will reveal untold secrets and rectify many myths once and for all. To begin, some quantities remain constant regardless of the drink you are making. When mixing similar spirits (in terms of flavor), always keep it to one once each. If mixing differently flavored spirits, use an ounce and a half of the weakest spirit and half an ounce of the strongest. For example, with gin and mescal, use an ounce and a half of gin and a half ounce of mescal seeing as gin has a smoother taste than mescal. Contrary to popular belief, adding sugar to a cocktail does not make drinking it "easier" nor does it take away any of its substance, it helps
merge
the different flavors and components. However, no more than a quarter ounce of simple syrup (sugar and water) should be used to avoid over-sweetening. Another tip to retain is to mix sours with the right citrus fruit. The concentrated sour taste of limes belongs in brown spirits to "spice up" their warm flavor whereas lemons belong in the more aggressive white spirits to add a sweet & sour feel. Additionally, you must only shake sour cocktails: the density of citrus and simple syrups needs more pressure to mix properly than merely mixing with a stir stick. In case you are the official bartender of the evening, you might want to consider practicing 
free pouring
. This will save you a ton of time during which you can relax and enjoy yourself. Be it the number of seconds to pour or noting the correct level liquids have to reach in a drinking glass, any trick is good to use when mastering the art of spontaneous accuracy. Finally, the most important and difficult part:
chilling your drink
. For starters, always use large square ice cubes and a lot of them. The more ice in your drink, the less air will come in to accelerate melting and therefore dilution. In your shaker, as in your drinking glass, make sure the ice takes up as close to 100% of the available space as possible. Dilution must not be avoided completely but rather kept at a minimum. Another trick is to chill your glass before serving the drink. The same applies for hot drinks: warming your glass beforehand can make a huge difference temperature-wise.
Most of all, remember to have fun and that nothing is ever perfect. Mixology itself is a paradox: a good mixer must pay attention to details but must also let loose and enjoy him- or herself all the while. Be sure to use the best barware:
Gourmet by Starfrit
offers an extensive cocktail line that will give bar-like results every time. From
recipe wheels
to
rimmers
to
measured pourers
to
stainless steel ice cubes
, you'll find every accessory for your NYE needs!