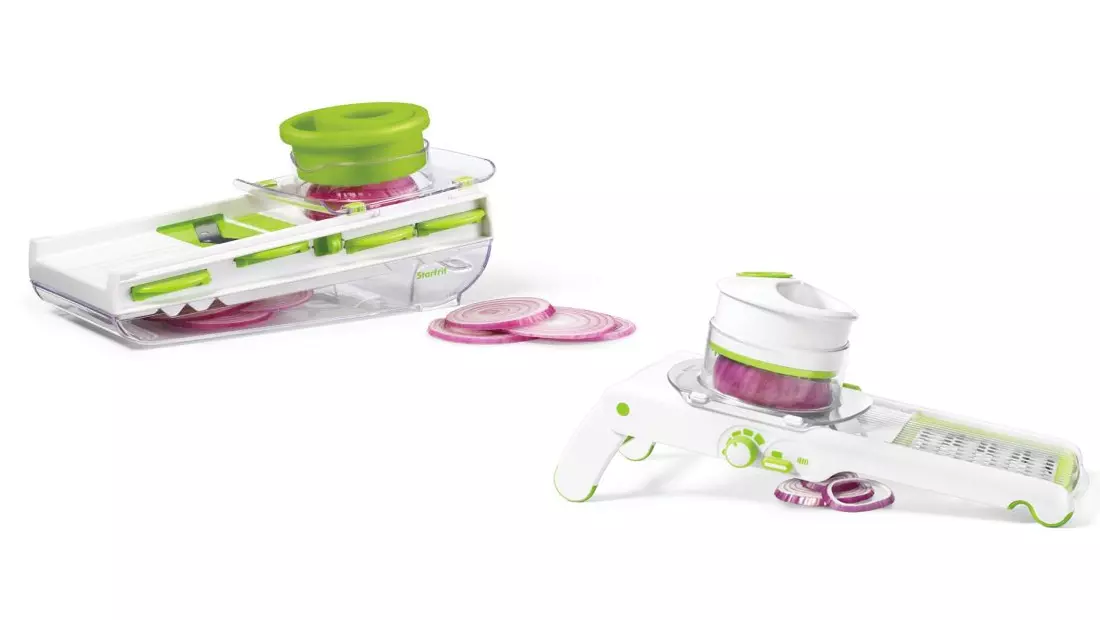 Why use a kitchen mandolin?
Ok, I have to admit, I've resisted using a mandolin for years! I used to think that if I cooked like a Chef, a good quality knife and cutting board was all I needed… until… I tried a mandolin! Why use a mandolin? Well it seems Chefs DO use a mandolin when preparing certain meals, and somehow it gives me permission to do so myself! The main reason is that it cuts perfectly, evenly, consistently and quickly for recipes that require thin cuts. It really does! Even if you count the time it takes to prepare the mandolin and wash it afterwards, you DO save time!
What are mandolins and what do they do?
Let's back up a bit and define what a mandolin is: mandolins are simple, they consist of a blade mounted on a plastic piece. The blade is often adjustable in height, enabling you to cut your food in different thicknesses. Also, sometimes blades are interchangeable and you can choose one that enables you to make julienne cuts quite simply. You use the pusher over the vegetable (or fruit) that you want to slice and do a back-and-forth motion to cut on the blade. In seconds, your food will be sliced to perfection, always at the same thickness!
How do I choose a mandolin?
With all the offers in the market, it's getting more complicated choosing the right mandolin for your kitchen. Here is what you have to look for:
First, think about how often you think you'll use a mandolin. This will help determine the level of quality (and price) you will look for.
Choose the construction material for the body of the slicer. They typically come in plastic or stainless steel, the latter being more pricey.
Select the material of the blade. Stainless steels blades are the most common, but now ceramic blades are available. Ceramic keeps its edge longer. You should choose a blade that is extra sharp so the movement of slicing is easy and efficient. Some blades are even double-sided: they cut as you go down on the blade AND as you move back up, thus saving cutting time! Another option is a V blade which pierces the fruit or vegetables from both sides, reducing resistance and making it easier to slice.
Compare the thickness settings available on the different slicers; the more thicknesses available on your mandolin, the more recipes you can create as it's more versatile.
Consider what type of cuts can be done with the mandolin. Obviously, straight blades are a given, but others offer julienne or waffle cuts as well as shredders.
Choose between handheld mandolins or mandolins with stands, made for more extended slicing. You can also find models that latch onto a bowl so you can slice right into it.
Make sure there is a finger guard or pusher that is essential for added safety. You won't want to include bits of your fingers in your food!
Consider how easy it is to clean the mandolin. Is it dishwasher safe? Do the blades come out to make washing safer?
Does it come with storage for extra blades? If so, is it safe?
Whatever you decide, now that I've tried a mandolin, I recommend that you include this tool in your kitchen accessory assortment! Be safe and slice!