Back
Classic Hot Cross Buns from Marcy Goldman/Betterbaking.com
Description
These beautiful buns are a delectable Easter classic but respun in a contemporary way, featuring some dried cherries and cranberries and orange zest instead of candied orange peel. Fresh Hot Cross Buns are easy when you let the bread machine prepare the dough!
This recipe is courtesy of Marcy Goldman of Betterbaking.com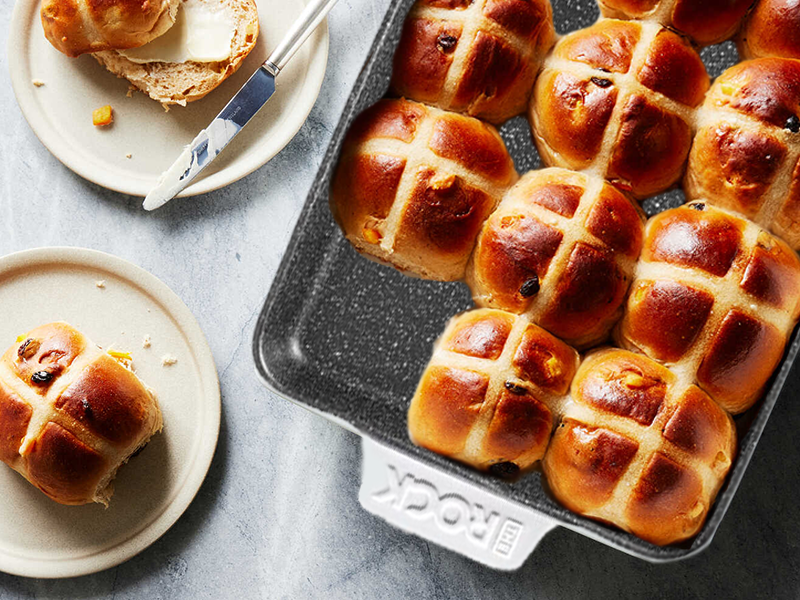 Sweet Hot Cross Bun Dough
5

teaspoons instant or bread machine yeast

1/3

cup warm water

1

cup scalded milk, cooled

1/3

cup unsalted butter, melted

1

cup sugar

1

teaspoon salt

2

eggs

4 - 5

cups all-purpose flour

1/3

cup whole wheat flour

1

teaspoon cinnamon

1/2

teaspoon nutmeg

1/2

teaspoon allspice

3/8

teaspoon cloves

1/2

cup plumped dried cranberries or dried cherries

1/2

cup plumped sultanas or currants

1

tablespoon minced orange or lemon zest (or mixed)
Vanilla Fondant
2 1/2

cups icing sugar

2-6

tablespoons water

1

teaspoon vanilla extract
In a bread machine:
On Dough Cycle, add yeast, water, milk, butter, sugar, salt, eggs, 4 ½ cups of the all-purpose flour, the whole-wheat flour, cinnamon, nutmeg, allspice and cloves. Allow dough to mix adding in additional flour as you see a ball form. As machine is still kneading, add in dried fruits and citrus zest.
Allow to complete Dough Cycle,

When dough is ready, gentle deflate and remove to a lightly floured surface.

Divide into 12 pieces and shape into balls. You may also roll dough out and cut into 3 inch rounds (about 1/2 inch thick).

Place buns on a lightly greased baking sheet about one inch apart. Alternatively, you can use a parchment paper-lined 9 by13 inch pan.

Using floured scissors, snip a cross on the top of each bun (about 1/2 inch deep). Paint with egg wash and cover with a large plastic sheet. Let rise about 25 minutes or until buns look puffy and light and are almost doubled in size.

Preheat oven to 375 F. Place buns in oven and immediately lower temperature to 350 F. Bake for 17-20 minutes until the tops are golden brown. Remove from the oven and transfer to a rack. When cool, apply fondant.
For fondant, mix ingredients to make a very soft icing. Apply or pipe onto baked and cooled Hot Cross Buns. Allow to set before serving. If fondant is too soft, add more icing sugar. If too thick, add water.

One dozen buns


For Mixer Instructions:

In the bowl of an electric mixer, whisk together the yeast and water and let stand a minute. Then stir in the milk, butter, sugar and salt to dissolve. Whisk in eggs. Add most of white flour, whole wheat flour and spices and mix by hand to make a soft dough. When dough can no longer be mixed by hand, begin kneading (5 - 7 minutes by hand or using a dough hook on an electric mixer). Dust in more all-purpose flour if needed. When dough is somewhat smooth, knead in currants or raisins and orange peel or citron. Dough should be smooth and elastic. Shape dough into a ball and let rest, covered with a tea towel for about 45 minutes.
Then proceed with the recipe as above from the point that the Dough has risen and is ready to be shaped into buns.
Products used in this recipes