Back
Tonkin Beef Soup
Description
Typical Vietnamese dish consisting of beef broth flavored with star anise, Sichuan pepper and fresh ginger served with rice noodles, thin slices of rare beef and fresh coriander. Bring all these flavors together easily with The Rock One-Pot by Starfrit.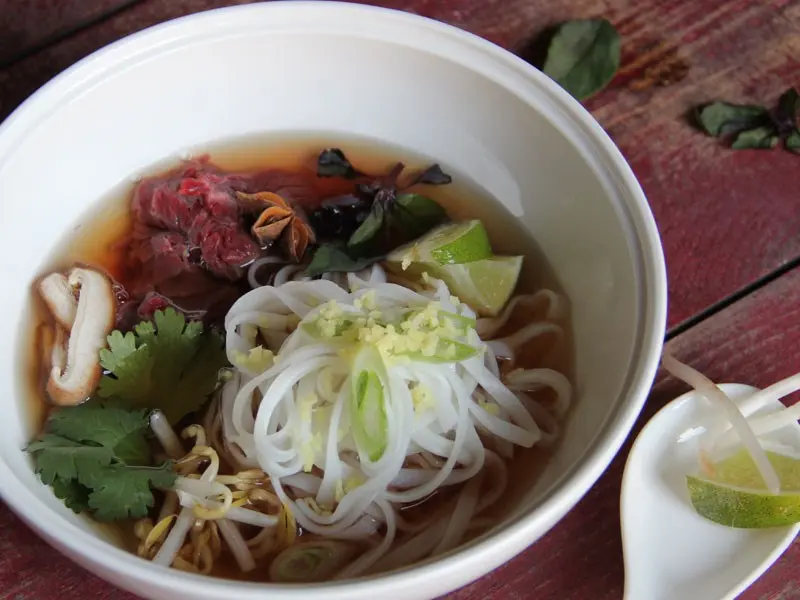 Tonkinese soup
½

lb Boston cut beef

4

cup Beef broth

1

tsp Sichuan pepper

1

tbsp Fresh ginger

4

unit Star anise

1/2

lb Flat rice noodles

2

clove Garlic

8

unit Shiitake

1

teaspoon Soy sauce

1

teaspoon Fish sauce
Garnishes
1

Lime

3

tbsp Sprouted soybeans

4

sprig Fresh cilantro

4

sprig Thai basil

4

unit Green onion
Assembly
Place in each soup plate: a few shiitake mushroom slices, rice noodles, sliced beef, green onions and cilantro.
Pour the boiling beef broth on top in order to cook the meat a bit.
Serve with lime wedge, bean sprouts, and Thai basil.
Rice noodles preparation
In a large volume of simmering salted water cook the rice noodles according to packaging instructions.
Drain, rinse and keep warm.
Beef broth preparation
In the Rock One Pot stock pot, by Starfrit, bring the beef broth to a boil.
Add the star anise, Sichuan pepper, minced garlic, soy sauce, nuoc mam sauce and ginger.
Let steep for 15 minutes over low heat then strain. Keep warm.
Setting up
Slice the beef very thinly.
Slice the green onions.
Grate the ginger.
Thinly slice the shiitake mushrooms.
Cut the lime into wedges.
Take off the leaves from coriander sprigs.