Back
Beef Wrap
Description
A great sandwich that is outside of the norm that is easy to make and even easier to bring with you thanks to the Lock&Lock Easy Match 1.2 L Rectangular Container.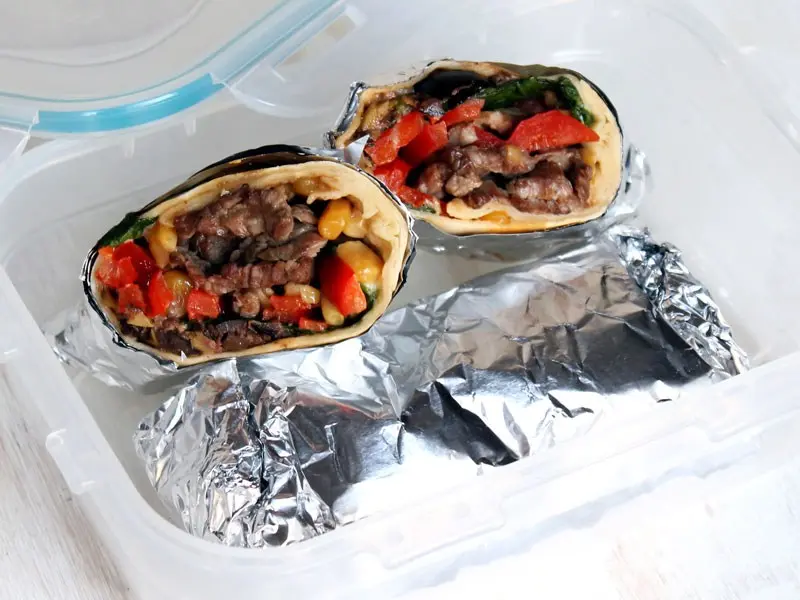 Wrap
2

big Tortillas

2

tbsp Mayonnaise

2

tsp Olive Tapenade

3/4

cup Baby spinach

1

Hanger steak (150g)

1

Red pepper

1/4

cup Corn can (540 ml)
Preheat your oven at 400 F°
Preparation
Cut the hanger steak in slices.
Sear the meat slices in a pan to give them a nice caramel color.
Place them on cookie sheet then place in the oven for 5 minutes.
Remove the seeds from the red pepper and cut it into thin slices.
Strain the corn.
Assembly
Place the tortillas on your work surface and spread the mayonnaise and the olive tapenade on the entire surface.
Garnish with the baby spinach, the hanger steak slices, the red pepper and the corn.
Start to roll the tortilla, then fold in the sides and finish rolling.
Wrap up the tortillas in aluminium foil or in cooking paper.
Place the rolls in your lunchbox Lock&Lock Easy Match 1.2 L Rectangular Container that you will keep in the refrigerator.