Back
Beetroot Pappardelle with Goat Cheese
Description
Very fresh and vibrant vegetable recipe topped with an all-time classic sauce! Easy-to-use, the Spiral Slicer from Starfrit lets you cut like a chef and make pappardelles of any vegetable, in seconds! Use the thinner blade to cut the carrots and simply use the slicing blade for the beets and voilà! Hands down one of the best tools to transform any healthy dish into a sure shot for your guests.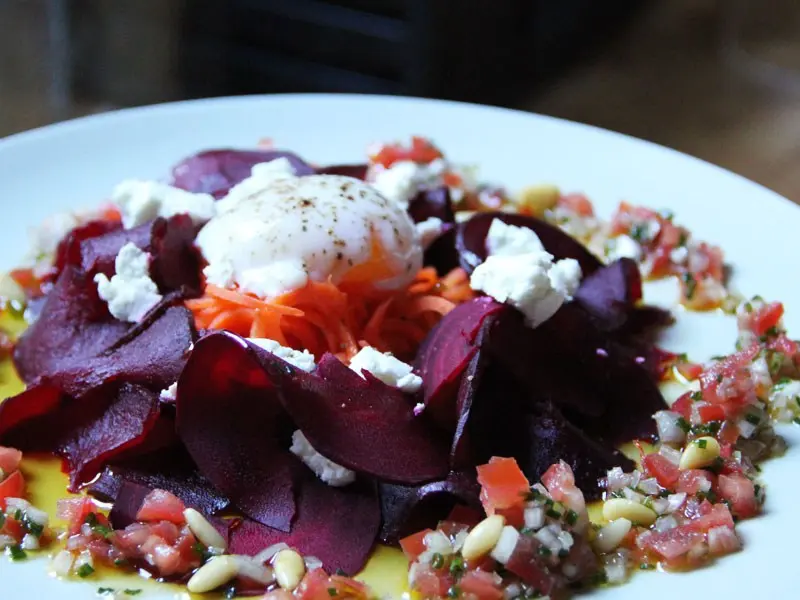 Beetroot pappardelle
4

Red Beetroots, cooked
5

½

oz Goat cheese Bûchette

8

sprigs Chives

1

Carrot
Poached egg
4

Eggs

2

tbsp White vinegar
Virgin Sauce
1

Tomato

1

oz Pine nuts

1

Chopped Shallot

1

clove Chopped garlic

5

sprigs Parsley
2

½

tsp White balsamic vinegar
3

½

tbsp. Olive oil
Setting up
Chop down the shallot and the parsley. Make sure that the tomato has been seeded while cutting it in 4 then cut its flesh into small cubes (brunoise).
Chop the chive the thinnest you can.
Beetroot pappardelle & carrot spaghetti
Pass the beetroots through the Starfrit Spiral slicer, add salt & pepper. Same goes for the carrots but with the spaghetti blade on.
Break down the goat cheese in very small chunks in a bowl.
Poached egg
Bring the water and vinegar to a boil then let it simmer slowly, a very light boil.
Hard boil eggs in the water for 5 mins, then cool them down, gently, room temperature on a thick cloth.
Virgin sauce
Put all the ingredients altogether and make sure they're all cut the same size, roughly. Voilà.
Assembly
Delicately, on a round plate, make a circle of beetroot with a smaller empty circle in which you will be putting the seasoned carrots in the very middle.
Spread the goat cheese all over, place the poached egg directly on top of the carrots and then finish with the virgin sauce.
Chef's tip
The trick is all about the virgin sauce. Such a classic recipe but so good when all the ingredients are evenly cut and of great quality. Do not compromise on the quality of the vegetables, year round.
Products used in this recipes