Back
Brunswick Chicken Stew
Description
We're sorry, an error has occurred while generating this content.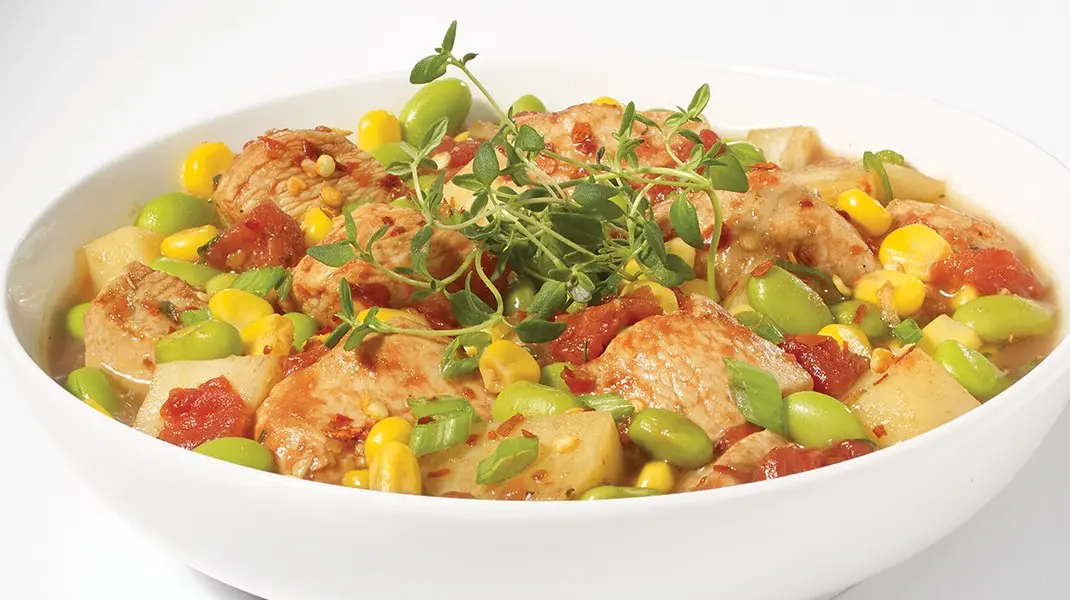 1

can (795 ml) diced tomatoes

1

¼-pound potatoes (about 2 large potatoes), cut into 1-in. cubes

2

cups (500 ml) chopped onion (from 1 medium onion)

½

cup (125ml) packed light brown sugar

¼

cup (60 ml) apple cider vinegar

¼

cup (60 ml) Dijon mustard

6

tbsp. (90 ml) tablespoons Worcestershire sauce

2

tbsp. (30 ml) chopped fresh thyme

1

tbsp. (15 ml) of salt

1

tbsp. (15 ml) tomato paste

2

tbsp. (30 ml) unsweetened cocoa

¼

(3,75ml) teaspoon crushed red pepper

4

(4-lb.) chicken breasts cut into 1-in. piece

2

cups (500 ml) frozen lima beans

2

cups (500 ml) fresh or frozen corn kernels (about 4 ears)

½

tsp. (2.5 ml) black pepper

¼

cup (60 ml) thinly sliced scallions (about 2 scallions)
Press ''SAUTÉ'' function and let the appliance preheat for 2 minutes.
Stir together, potatoes, onion, Worcestershire sauce, cider vinegar, Dijon mustard, brown sugar, thyme, salt, cocoa, red pepper and black pepper.
Once vegetable is browned, press ''CANCEL'' and switch to ''MEAT''. Used the setting MED.
Add all the other ingredients to the cooking pot: Lima beans, corn kernels, tomatoes diced, sliced scallions and add the chicken breast. Stir to combine.
Close the lid until you hear a ''click'', plug the appliance.
Press START button to accept the setting. NOTE: Refer to the ''COOKING PROGRESS DISPLAY'' section to monitor cooking stages.
Once cooking time is over, the appliance will beep 5 times and automatically switch to WARM mode.
Let the appliance cool down completely. For a quick release; carefully turn the steam release vent to the ''release '' position . Do not try to force the lid open. WARNING: Use extreme caution when opening the lid and as hot steam will escape and may cause scalding. Use protective oven mitts or gloves to avoid burns or serious personal injury. Always use utensils to handle hot food. WARNING: DO NOT attempt to open the lid before cooking time is over and pressure is completely released from the appliance. This may cause serious injuries.
Turn the lid clockwise to UNLOCK.
Remove the lid.
Products used in this recipes