Back
Chicken Chorizo Pasta Casserole
Description
Pasta is always a winner in a potluck party! With its spicy flavors, this easy to prepare meal will be a crowd please at your next event.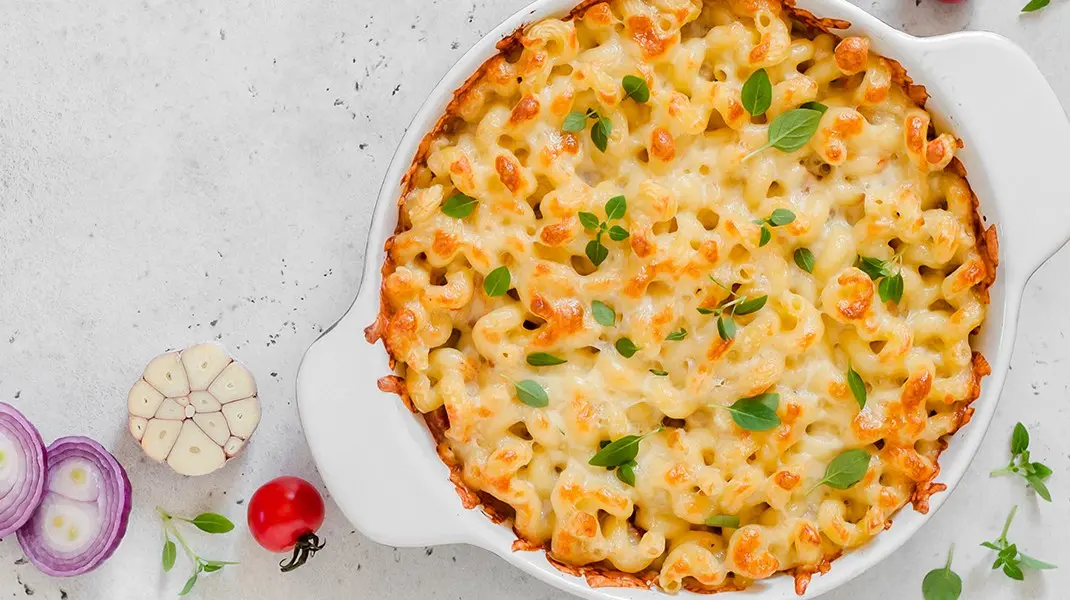 3½

cups uncooked penne pasta (12 oz)

1

teaspoon vegetable oil

1

lb Chorizo sausage

4

tablespoons butter

1

cup of red peppers

1

medium onion, diced (1 cup)

2

cloves garlic, finely chopped

1

package taco seasoning mix

3

tablespoons all-purpose flour

2½

cups milk

1

cup heavy whipping cream

1

teaspoon salt

2

cups shredded Monterey Jack cheese (8 oz)

2

cups shredded Cheddar cheese (8 oz)

3

cups shredded roasted chicken

1

cup plain bread crumbs
Heat oven to 350°F. Lightly grease 8.5-inch The Rock Ovenware round dish. Cook and drain pasta as directed on package with The Rock Diamond stock pot.
Meanwhile, in The Rock Diamond deep pan, heat oil over medium-high heat. Cook chorizo in oil 4 to 6 minutes, stirring frequently, until no longer pink. Add 2 tablespoons of the butter, the red peppers, onion and garlic. Cook and stir about 6 minutes or until vegetables are softened. Add taco seasoning mix and flour. Cook and stir 2 minutes.
Gradually stir in milk and whipping cream. Stir in salt. With heat still at medium-high, heat to boiling, stirring constantly. Remove from heat; stir in cheeses. Add pasta and chicken; stir to combine. Remove from heat. Pour mixture into 8.5-inch The Rock Ovenware round dish.
In medium microwavable bowl, microwave remaining 2 tablespoons butter uncovered on High 45 to 60 seconds or until melted. Stir in bread crumbs. Sprinkle on top of pasta mixture. Bake 20 to 25 minutes or until sauce is bubbly and top is golden brown. Let stand 10 minutes. Serve hot.
Products used in this recipes