Back
Chicken Filet Couscous
Description
Chicken filets, seared with shallots, garlic and black olives, deglazed with lemon juice. Accompanied by couscous generously garnished with dried fruit!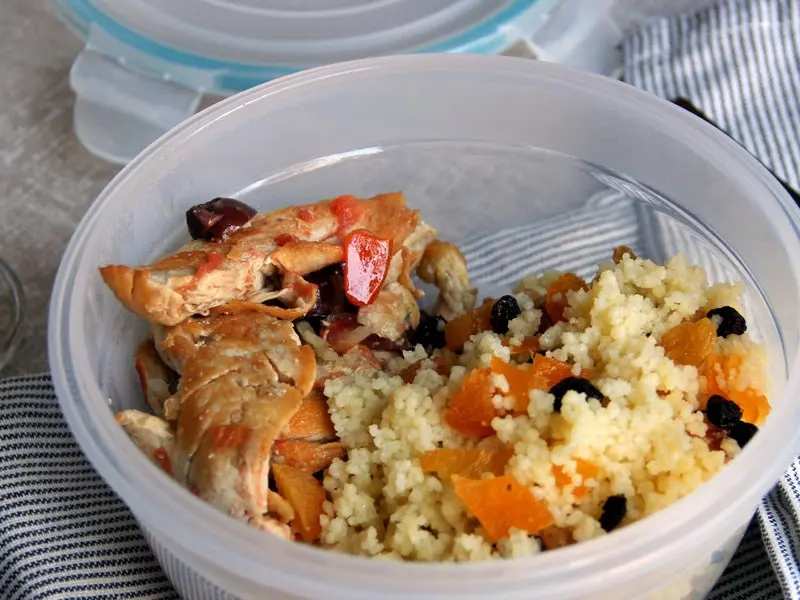 Chicken filets
4

Chicken breasts

2

Shallots

4

Garlic cloves

1/2

cup Pitted Kalamata olives

3

Lemons

6

sprigs Parsley

2

Italian tomatoes
Couscous
1

cup Couscous

6

Dried apricots

1/4

cup Raisins

1

tbsp Cumin powder

2

cups Chicken stock
Olive oil
Salt and pepper
Setting Up
Slice the chicken breasts in large strips.
Chop the parsley and the garlic.
Finely dice the shallots, remove the tomato seeds and dice the flesh.
Slice the olives.
Finely dice the dried apricots.
Squeeze all the lemons and strain the juice.
Chicken filets
In a hot The Rock pan with vegetable oil on medium-high heat, sear the filets until golden brown, add the shallots and then the garlic.
Cook three more minutes and deglaze with the lemon juice.
Add the tomatoes and the olives and cook for two more minutes on medium-low heat.
Couscous
In a mixing bowl, coat the couscous with olive oil and mix with your hands.
In a big The Rock pot, bring the stock to a boil and pour it over the couscous, cover with a saran wrap and reserve for 20 minutes.
Once it is fully cooked, season to your liking, add the cumin, the dried fruits and keep warm.
Assembly
In your Lock&Lock Easy Match 850 ml Round Container, place some couscous on one side and the chicken filets on the other, pour sauce all over and finish with parsley.