Back
Chicken Parmigiana
Description
Prepare a healthy and flavorful Parmigiana Chicken recipe with the Starfrit Air Fryer.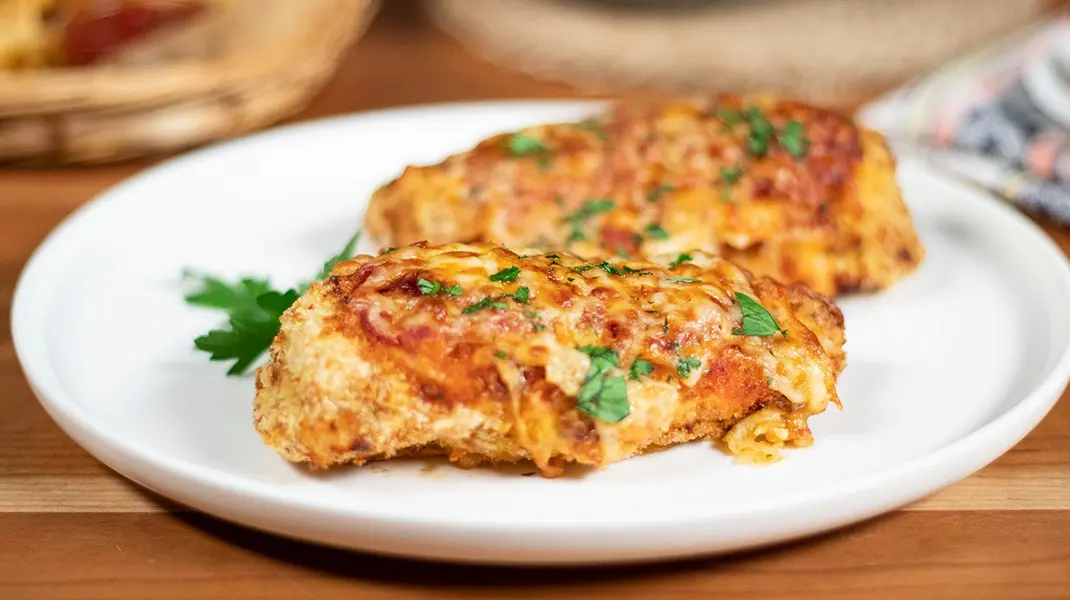 1

chicken breast, cut in half (on thickness)
½ cup flour
½ cup Panko bread crumbs

3

tablespoons grated Parmesan cheese
1 teaspoon dried thyme
1 egg
2 tablespoons milk
½ cup tomato sauce
½ cup grated Mozarella
Chopped parsley (for serving)
Salt and pepper
Place flour in a deep plate, season with salt and pepper and mix.
Place Panko bread crumbs, Parmesan cheese and thyme in a deep plate and mix well.
Mix together egg and milk in a large bowl.
Take a piece of chicken and place it in the flour mix making sure both sides are covered, place quickly in egg/milk mixture then in Panko mix pressing lightly to make sure it sticks to both sides of the chicken.
Repeat steps for other piece of chicken.
Place basket in Air Fryer and cook at 360°F for 8 minutes. After 4 minutes, turn chicken pieces, put tomato sauce on them with Parmesan cheese and continue cooking for 4 minutes or until cheese starts to change color.
Sprinkle with chopped parsley and serve immedidately.