Back
Pulled Chicken Penne with Creamy Lemon Sauce
Description
A very simple leftover recipe delivered in good taste and all done in one cooking utensil with The Rock One Pot 12" dutch oven with lid, by Starfrit. With its creamy lemon sauce, this dish will be sure to please young and old alike!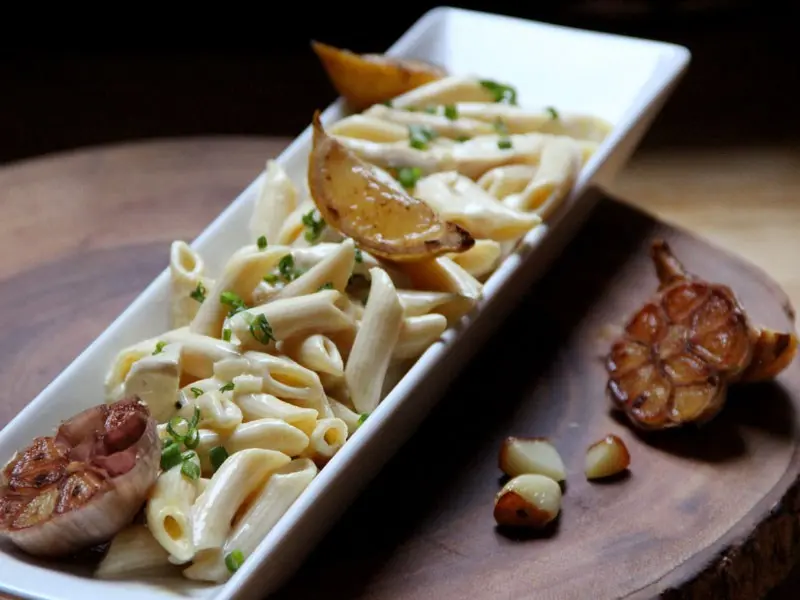 Penne
½

lb Penne Rigate

17

fl. oz. Chicken stock

0.8

lb Cooked chicken breast
Onion

3

cloves Crushed garlic

3

sprigs Thyme

1

tbsp Dijon mustard

2

cups 35% cooking cream

2

Lemons

8

sprigs Chives
Preparation
If you are using dehydrated broth, prepare your chicken broth per the packing instructions. If you use liquid broth, it's already done!
Scrape the chicken flesh over the remaining carcass in the fridge or cut your chicken breast into pieces.
Peel and slice the onion.
Chop the chives.
Cooking the Pasta
In a big The Rock One pot 12" dutch oven with lid by Starfrit, bring the chicken broth to a boil and put in the pasta (Penne) for about 5 minutes. You should have about 8.5 fluid ounces of broth left, if not remove a little.
Add your chopped onion, a thyme branch and the crushed garlic, lower the heat slightly and continue the cooking on medium heat to let all the flavors come together.
Add the Dijon mustard, the zest and juice of a lemon, still on medium heat, then cut the other lemon into quarters.
Cook for another 2 minutes, then add the 35% cream (country-style) and the pulled chicken. Season with salt and pepper, then cover and let simmer over a low heat for 5 minutes.
Serve! Finalize with chopped chives.
Chef's tip
The coloration of the onions with the thyme and garlic is an absolute priority.
Deglazing with white wine and lemon juice, will bring enough acidity and balance to the blend thanks to the richness of the cream.