Back
Chicken Zucchini Pasta
Description
Looking for ways to incorporate more vegetables in your meals? By cutting your zucchini into spirals, you can easily replace pasta for a healthier alternative.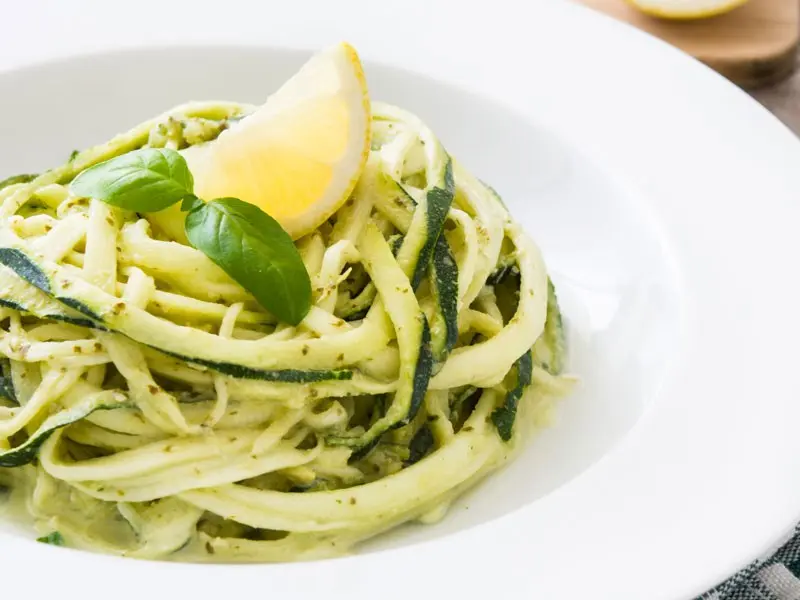 4

zucchinis

2

ripe avocados

1

cup (250 ml) fresh basil leaves

3

garlic cloves, finely chopped

2

tbsp. (30 ml) lime juice

1/4

cup (60 ml) grated parmesan

1/2

cup (125ml) water
Salt and pepper to taste

2

tbsp. (30 ml) of olive oil

2

chicken breasts
Serve with lemon wedges
Spiralize the zucchinis using your Starfrit Electric Spiralizer (circle blade). Remove all excess water with a paper towel.
Heat a large skillet over medium-high heat. Add 1 tablespoon of olive oil. Cook the zucchinis for 2-3 minutes. Season to taste and set aside. Do not overcook as the zucchinis will get soggy. Set aside.
Cook the chicken using the same skillet. Season to taste.
Add the avocado, basil, garlic, lime juice and parmesan in a food processor. Pulse all the ingredients until to get a creamy texture. Add water as needed.
In a large mixing bowl, add the zucchinis pasta, the avocado pesto and chicken. Mix gently to avoid breaking the strands.
Serve with lemon wedges and top it off with grated parmesan.
Products used in this recipes