Back
Chilli peppered shrimps & coco soup
Description
Delicious and spicy shrimps mixed to perfection with a rich coco & Hoisin soup? Yes, please. For the vegetables in this recipe, no need for a cutting board! Just use the rotary chopper from Starfrit and the job is done. A simple and tasteful dish made even faster with the chopper and for any cook or chef, at home or in the kitchen, it is a must to save time and dirty dishes!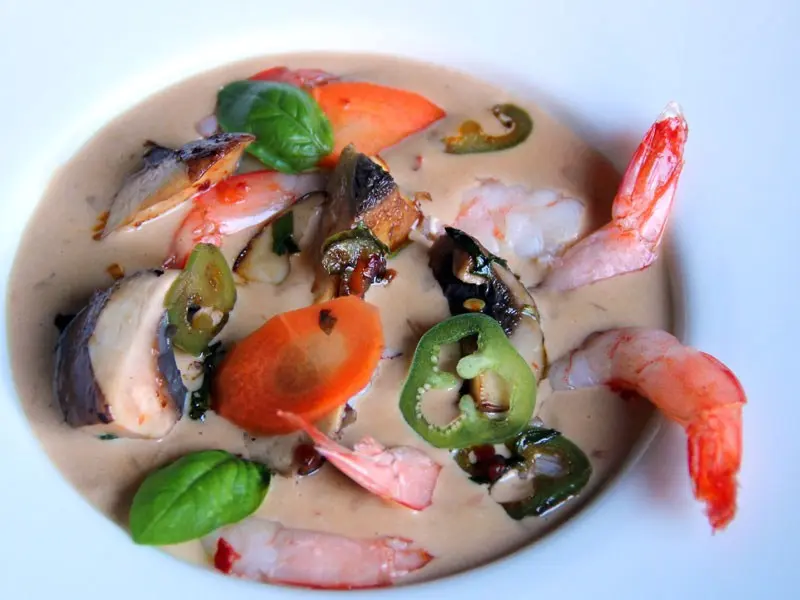 Chilli peppered shrimps
20

unit(s) Peeled Medium Shrimps

3

clove(s) Garlic

1

unit Jalapeno pepper

1

unit Bird's eye chili

1

tbsp Sambal oelek

1/3

cup Basil leaves

2

oz Fish sauce
1

½

tbsp Roasted sesame oil
1

½

tbsp Yuzu juice
Coco soup
3

½

cups Coconut milk
2

½

cups Chicken stock
4

¼

oz Hoisin sauce

3

Shallots

1

Lemongrass

¾

oz Sambal oelek

2

Carrots

5

Mushrooms

1

Green pepper
Shrimps
In a medium sized bowl, put everything in! Chopped chilli peppers, Sambal, chopped garlic and basil and of course, the shrimps. Let all the flavors come together under a plastic wrap in the fridge for a good 30 mins, at least.
Once you are ready to start, in a very hot pan, sear the shrimps then deglaze with what's left of your marinade, in the pan and again once the shrimps are off the heat. Reserve.
Coco soup
In a small stewpot with canola oil, throw the lemongrass and the shallots in and wait for it to be golden brown then add the chicken broth.
Let it cook at medium heat for a good 5 mins then add the rest; coco milk, Sambal, Hoisin sauce and again let everything cook slowly (level 4, on the heat) for 5-7 mins.
Taste, make sure the seasoning is up to your liking then, bon appétit.
Cut the mushrooms, the green peppers and the carrots in big chunks and put them in the Starfrit Rotary Chopper, just to finish the chopping.
Assembly
In a soup bowl, place all the ingredients at the very bottom then pour the coco soup all over and add some more toppings to decorate.
Chef's tip
The soup is the key to paradise, on this recipe. Make sure to taste before you dress! Taste, taste, taste!
Products used in this recipes