Back
Cold Pasta and Roasted Vegetables Salad
Description
A simple, nutritious and colorful salad, that will keep all its freshness in the Lock&Lock Bento - 1L by Starfrit.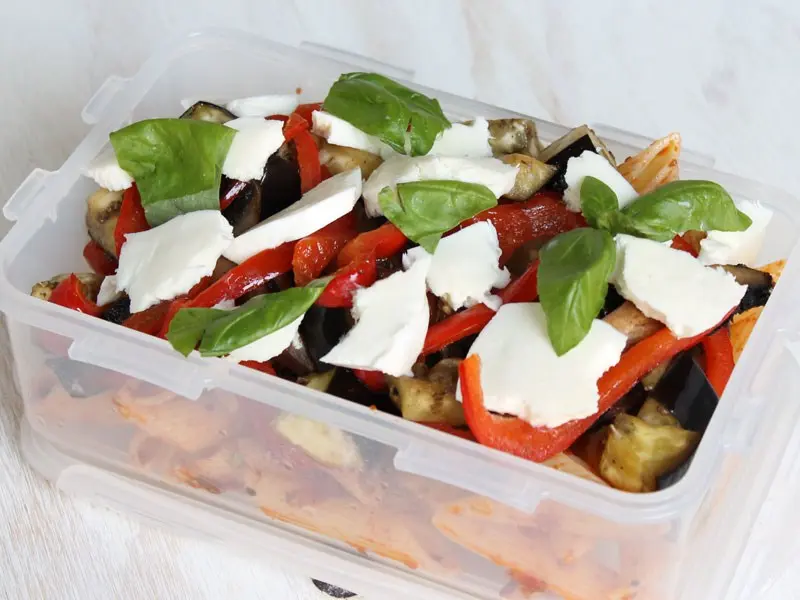 Vegetables
5

large Portobello mushroom

1

large Eggplant

3

Red peppers

1/4

cup Tomato Pesto

2

tbsp White balsamic vinegar

1

tsp Dried oregano

1/2

tsp Chili flakes
Salad
2 1/2

cups Penne Rigate

1/2

lb Fresh mozzarella

1/4

cup Basil leaf
Preheat your oven to 425 F°
Preparation
Once the vegetables are drizzled with oil and seasoned with salt and pepper, place in the oven for 20 minutes.
Cook the pasta in boiling water for 7 to 10 minutes.
Remove the stems from the portobellos.
Cut the eggplant in cubes, cut the pepper in large slices.
Assembly
Mix together the pesto, the vinegar, the oregano and the chili flakes.
Pour everything on the pasta once cooled.
Add the roasted vegetables, mix well and place delicately in your lunchbox Lock&Lock Bento - 1L by Starfrit.
Tear the mozzarella with your fingers and place on top of the salad with the basil leaves.
Keep the salad in the refrigerator until time to enjoy the meal!