Back
Dauphinoise Potatoes
Description
We're sorry, an error has occurred while generating this content.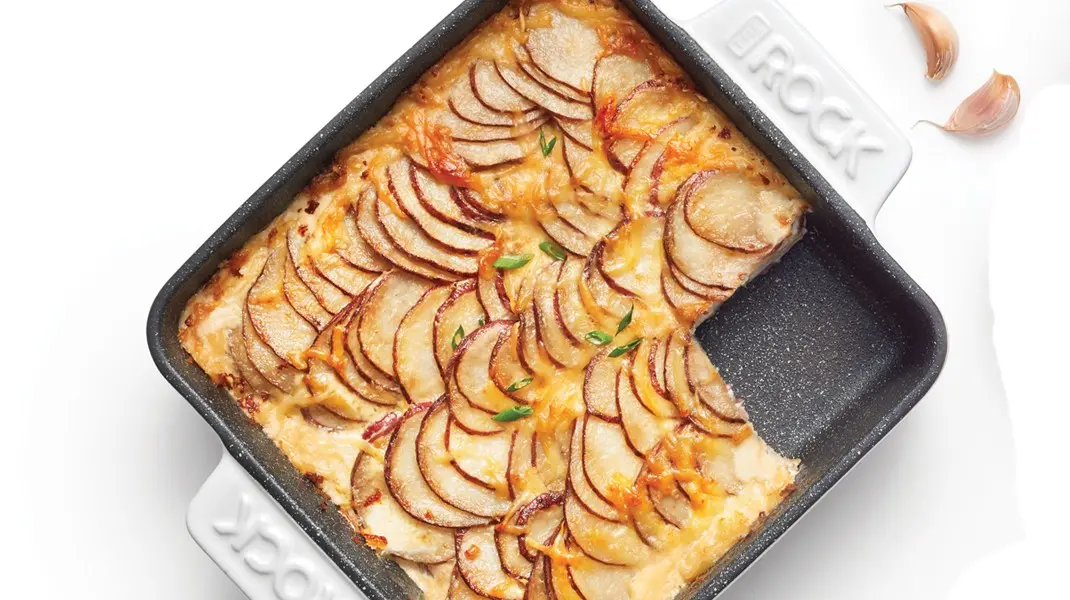 1

kg /2.4 lb Russet baking potatoes, peeled

3

cloves garlic

1

cup double cream
salt and freshly ground black pepper
Preheat the oven to 350F/176C.
Slice the potatoes into thin slices, about ⅛ inch thick using your Starfrit Pro Mandoline. Place the slices into a bowl as you cut them.
Press the cloves with you Starfrit Garlic Press. Scrape the grated garlic flesh into the bowl with the potatoes.
Season the potatoes, to taste, with salt and freshly ground black pepper. Pour the cream over the potatoes and mix well again.
Place the potato slices into the The Rock Ceramic ovenware Square dish . They should come to just below the top of the dish. Press the potato down with the back of a spoon or your hands so it forms a solid layer. The cream should come to just below the top layer of potato (top up with more double cream if necessary).
Place the potatoes in the oven and bake for 1-1½ hours, or until the potatoes are completely tender. (If the cream looks like it's splitting, your oven is too hot, so turn it down a bit.) Serve the dauphinoise as a side dish to roasted meat or poultry.
Products used in this recipes