Back
Double Vanilla Apple Buttermilk Muffins
Description
A tender, moist buttermilk vanilla batter is home to apple chunks dusted with a hint of cinnamon and topped off with a delectable vanilla streusel. These freeze well so bake, cool, wrap in wax paper and then tuck in a sealable Starfrit storage container.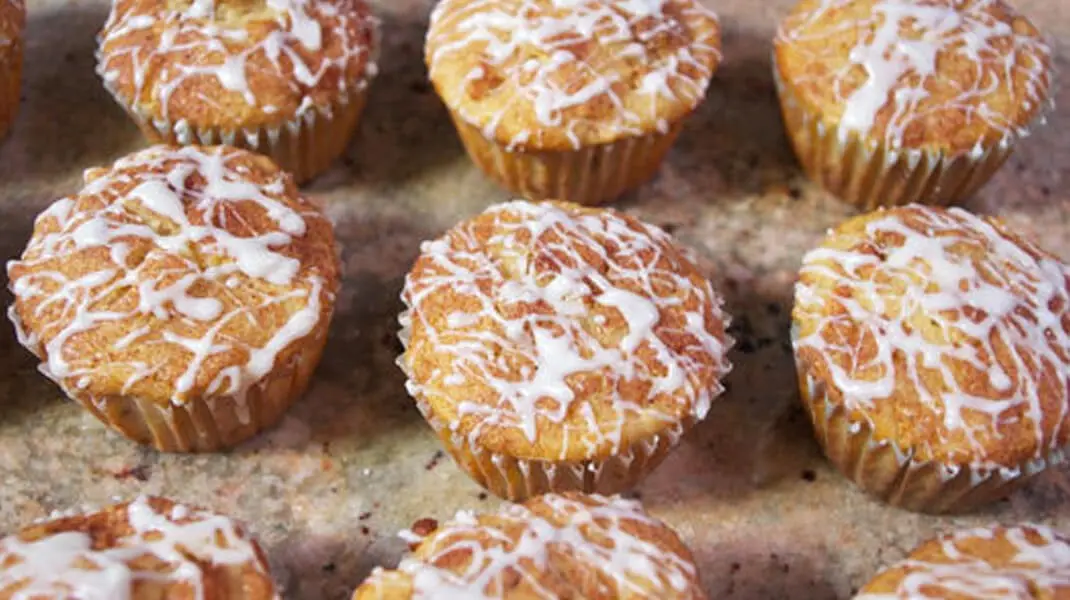 Vanilla Streusel Topping
3

tablespoons unsalted butter

2

tablespoons white sugar

¼

cup brown sugar, packed

1

teaspoon pure vanilla extract

½

teaspoon cinnamon

½

cup flour
Muffin Batter
1

1/3 cups light brown sugar, packed firmly

½

cup vegetable oil

1

egg

1

cup buttermilk

1 ½

teaspoons pure vanilla extract

2 ½

cups all-purpose flour

½

teaspoon baking soda

2

teaspoons baking powder
½ teaspoon cinnamon

⅛

teaspoon salt

1 ¾

cups coarsely chopped peeled apples
Prepare the streusel by tossing or crumbling ingredients together. Set aside.
Preheat oven to 375 F. Line muffin cups with silicone liners. Line a baking sheet with silicone mat and set aside.
In a large bowl, whisk together oil, brown sugar, and egg. Add vanilla and buttermilk.
In a separate bowl, stir together flour, soda, baking powder, salt, and cinnamon. Blend wet and dry ingredients together gently and once partially blended, fold in apples. If batter seems too loose, add a few tablespoons of flour (no more than 4) to make batter a bit stiffer.
Scoop batter into lined muffin liners. Sprinkle topping evenly over each muffin.
Place muffin tin on the baking sheet. Bake for 15 minutes.
Reduce heat to 350 F. and bake another 12 to 15 minutes. Muffins should spring back when pressed lightly. Allow to cool in pan for 5 minutes before removing.
Products used in this recipes